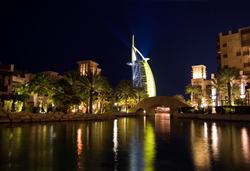 Build It And They Will Come
Dubai, UAE (PRWEB) December 4, 2008
It seems that Dubai has mastered The Secret to dodging an economic crisis by adapting a "Build It And They Will Come" mentality. In the last few years, the emirate has birthed everything from the world's tallest hotel, to the world's only indoor ski resort, to the world's largest amusement resort, to the world's largest mall and most recently the world's only collection of man-made islands - The Palm Trilogy and The World - creating the foundation for, non-other than, world class hotels and residences. All part of its ongoing effort to become the top tourist destination on the globe.
About-DubaiHotels.com has found that living the high life, literally or figuratively, while in Dubai is not as financially out of reach as one may think. Want a room on the 60th floor of a 5-star hotel, with a personal butler, private pool, and transportation from and to the airport via chauffeured limousine? Expect to pay anywhere from $250 to $2500 per night, give or take a few amenities…the more amenities the more zeros at the end of that nightly rate.
Being the melting pot that it is, with 80% of its population made up of expatriates, and having a versatile terrain containing desert dunes, lush green fields, and gorgeous beaches, Dubai has a very busy social calendar. If planning a trip during the winter months - November through May - check out a few of the events scheduled for the beginning of 2009 below:
January: The Dubai Marathon, Shopping Festival, International Jazz Festival, International Sailing Week Regatta, and the Emirates Cup Traditional Dhow Sailing Race
February: The Dubai Terry Fox Run, Dubai Tennis Championships
March: Dubai Desert Golf Classic, Dubai World Cup, Dubai International Kite Surfing Challenge
April: International Jewelry Exhibition. Note that Dubai is renowned for its solid gold jewelry, thus its "City of Gold" pseudonym.
Getting to Dubai has been made easier by the Emirates Airlines with daily flights out of New York's JFK Airport and Los Angeles International Airport. And with ease come comfort, luxury and environmental awareness. Emirates' airbuses offer private suites, shower spas and fully equipped bathrooms in First Class; lie-flat seats with built-in massage in Business Class; and a straight (versus curved) wall design, mood lighting and quieter cabin in Economy Class to help against jetlag. Among numerous environmental preservation efforts, the Airline strives to have the world's most fuel-efficient aircraft in the sky.
Before boarding your flight to Dubai, make sure to have an updated passport - visas are not required for travelers flying out of the US, Canada, Australia and some European and Asian countries. Upon arrival in Dubai, you'll need Arab Emirate Dirham notes or AED. It is recommended that currency be exchanged at financial institutions and not in the airport and hotels in order to obtain favorable rates.
Along with your passport, and visa if needed, pack your own regular clothing. This applies to both men and women. Though clothing that is too fitted, short or revealing should be avoided, women are free to wear western attire and not the traditional black over-garment. The climate is hot and sometimes humid, breathable fabrics such as cotton and linen are recommended. Full swimsuits (tops and bottoms for women) are only to be worn at beaches and swimming pools.
Other noteworthy facts to keep in mind: only non-Muslims may purchase and consume pork; unless in a bar or restaurant, a liquor permit is required to purchase alcohol; and, always show respect during the five times of daily prayer (salah). Finally, unbeknownst to many, Dubai is rated one of the safest cities in the world - therefore, don't feel threatened if a local invites you to his or her home for dinner, Arabs are incredibly friendly and hospitable and you'd offend them should you decline the offer.
About the company: About Travel Ltd., founded by Morten Sondergaard, operates the largest network of destination specialist websites in the world.
###