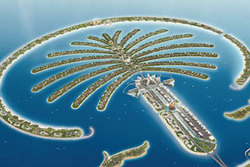 palm Jumeirah the first man made island will be Officially launched by the end of 2008
Dubai, UAE (PRWEB) February 10, 2008
His highness sheikh Mohammed Bin Rashed Al Maktoum the ruler of Dubai Ordered Building Dubai palms to support the tourism industry increasing Dubai beaches by over 500 km doubling-up Dubai shoreline.
According to Al Nakheel Palm Developers "palm Jumeirah the first man made island will be Officially launched by the end of 2008" along with the Atlantis, the biggest beach hotel/ resort in Dubai which has over 1500 rooms and 65000 marine animals on the tip of the palm. Many other international hotels on Palm Jumeirah will follow making Dubai a top destination for tourism .
Dubai Hotel Room and occupancy rates has been the highest in the world for the past few years resulting in poor availability of hotel rooms, that is when dubaishortstay.com managed by a group of Ex-Pat currently living in Dubai started Holiday rentals with the goal of providing alternative accommodation options for discerning Dubai tourists and corporate travelers in luxurious properties such as private Beach villas at the palm, which are a convenient and affordable option to Dubai's 5 star Hotels.
Dubaishortstay has doubled up in size over the last few years and currently manages 50 luxurious properties, which are either on or near Dubai Beaches and with private swimming pool option including palaces and penthouses, the most wanted for family reunion.
Standing out to be the only company offering complimentary airport transfer, broad band internet, fee local calls and twice a week house keeping make us most wanted by Executive travelers and Dubai visitors
Dubai home owners to double up their returns on investment as Returns on short term rental are roughly twice the average of long-term leasing as well as having the flexibility to change in a fast moving Dubai rental market and to have the Ability to utilize the property for personal use or friends.
To view Dubai Apartments and Dubai Hotel apartments and for further Details contact
9714 - 3344699
###