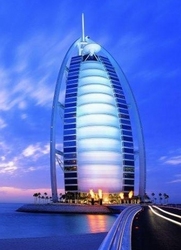 Chauffeur driven Rolls Royce cars, breathtaking views of the Arabian Gulf
(PRWEB) September 11, 2010
The luxurious Burj Al Arab offers the finest in facilities, location, services, and design. It dominates the Dubai coastline with its unique shape of a sail. Burj Al Arab does not have rooms: it has suites only, each arranged over two floors with floor-to-ceiling windows offering breathtaking views of the Arabian Gulf.
With chauffeur driven Rolls Royce cars, a private reception desk on every floor and highly trained butlers who provide around-the-clock services, you can be assured of a highly personalized experience throughout your stay.
In an interview, Simone Johnson was quoted saying, "DubaiHotelDesk.com already offered a selection of 400 luxury hotels in Dubai, but we are extremely proud to present the most prestigious of them all.
Combined with our upcoming visa and airport pick up services we aim to make a trip to Dubai a memorable experience." She went on to say that "Besides the all-inclusive hotels and resorts we offer a varied collection of hotels to suit every budget. Because of the high competition in the hotel industry in Dubai it will be worthwhile to check out our last minute offers."
Those planning a trip to Dubai should take the time to visit DubaiHotelDesk.com and learn about the best offers available, including last minute packages.
View live availability and book hotels in Dubai online and get instant confirmation.
###