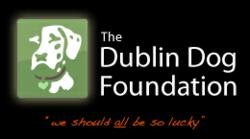 "The 2nd Annual Divots and Dogs Tournament is our marquee event. Our goal is to raise $15,000; half of what is needed to provide a service dog to a child," said Founder Jason Watson.
Charlotte, NC (PRWEB) August 21, 2012
The Dublin Dog Foundation will host its second annual Divots and Dogs Charity Golf Classic Monday, September 24, 2012 at the beautiful TPC Piper Glen in Charlotte, North Carolina.
Proceeds from the tournament will benefit The Dublin Dog Foundation and their continued efforts to promote the use of dogs in therapeutic and service roles.
Last year's tournament raised over $10,000 and benefited Clarke Ringelstein, age 10, in obtaining his much needed service dog. Clarke was born with a condition that doctors have still not been able to diagnose. He cannot walk or talk and his service dog is able to alert someone when Clarke needs anything, turn lights on and off and pick up objects for him.
The tournament is a 4 person scramble and prizes are awarded to the 1st, 2nd and 3rd place teams. Skill prizes will also be given for longest drive (men and women), closest to the pin on two holes and a hole in one grand prize.
"We are thrilled to be able to host the event at TPC Piper Glen," said Dublin Dog Foundation Founder Jason Watson, "It is a beautiful course and it will be great for both the players and our sponsors to experience."
Registration for the event is $150 for a single player and $550 for a foursome. Sponsorship levels are available and include logo and name recognition as well as player positions in the tournament. Registration includes a box lunch for all players, reception and dinner where players and guest will have the opportunity to participate in a silent auction.
"The 2nd Annual Divots and Dogs Tournament is the marquee event this year for the Dublin Dog Foundation," said Jason Watson, "Our goal is to generate $15,000; which is about half of what we need to be able to provide a service dog for another child this coming year."
If you are interested in participating in the Divots and Dogs Charity Golf Tournament or being a sponsor click here for more details.
About Dublin Dog Foundation
The mission of the Dublin Dog Foundation is to: Foster the therapeutic and service roles that dogs play in the development, support and inspiration they provide to their human companions. Founded in 2008 by Jason Watson, this 501C(3) dedicates themselves to helping people from all walks of life receive service dogs to help aid in their developmental and social goals. To date, DDF has raised over $100,000 and placed service dogs with three very lucky recipients. Your support will ensure future lucky recipients!