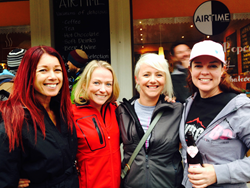 "Dusty is my daily inspiration and inspires everyone he knows by the way he overcomes personal adversity with a smile on his face."
Newport Beach, California (PRWEB) May 26, 2015
Eight women from all over the world are climbing mountain peaks in different hemispheres in August 2015 to raise awareness for Duchenne muscular dystrophy, the most common fatal genetic disease of childhood, for California based charity Coalition Duchenne.
Inspired by "Expedition Mt. Kinabalu," an annual event in Malaysian Borneo spearheaded by Coalition Duchenne founder and executive director Catherine Jayasuriya, an eclectic group of women are climbing Switzerland's most famous skyline, comprising the Eiger (13,020 ft/3,970 m), the Mönch (13,474 ft/4,107 m), and the Jungfrau (13,642 ft/4,158 m). In the "3 Peaks Challenge" led by Switzerland-based Englishwoman Lisa Hutchins, the self described "ordinary women" are set to do the extraordinary in memory of Lisa's late husband, internationally renowned wingsuit pilot Dan Vicary who died tragically in 2014. Wingsuit flying is the sport of "flying" while wearing a suit that adds surface area to the human body to enable flight. Dan's memory connects the Swiss expedition to "Expedition Mt. Kinabalu" in the steamy jungles of Borneo. There, a group led by Catherine, accompanied by Dan Vicary's mother, New Zealander Diane Peterson, is climbing Mt. Kinabalu (13,435 ft/4,095 m).
Coalition Duchenne's annual ascent of Mt. Kinabalu marks the fifth consecutive year that climbers have summited to raise Duchenne awareness. Catherine grew up in Borneo and always dreamed of taking her children to the summit of the granite monolith. Her son Dusty Brandom would never make the climb and at 22 is in a wheelchair and severely impacted by the muscle wasting disease. "Their bodies fail them but their mind and dreams are strong," said Catherine. "Dusty is my daily inspiration and inspires everyone he knows by the way he overcomes personal adversity with a smile on his face."
The connections between the climbers this year are complicated and geographically challenging, but embody the best of human nature and people coming together globally to inspire others and help those less fortunate than themselves. Dan Vicary learned of Dusty and Duchenne when he saw the distinctive red Coalition Duchenne wingsuit that has been flown around the world by different wingsuit pilots to raise awareness about the disease. Dan has a sister with a form of muscular dystrophy and the happy spirit in which Dusty overcomes the challenges presented by Duchenne inspired Dan to commit to participating in the first ever wingsuit flight in Borneo as part of "Expedition Mt. Kinabalu 2014." Then tragedy struck. Dan and two other wingsuit pilots died after crashing into a field following a jump from a helicopter over Switzerland's Luetschental Valley. Dan's wife Lisa is committed to keeping Dan's dedication to Duchenne and Coalition Duchenne alive. Along with fellow "3 Peaks" climber Alice Baton, she climbed with Catherine as part of "Expedition Mt. Kinabalu 2014."
The "Challenge" team draws an eclectic mix of women who are undaunted by the famous and imposing Swiss ridgeline. Travelling from Ferney-Voltaire in France, American epidemiologist Erin Shutes recalls a shared a love of wingsuit flying with the more experienced Dan. "He helped me chose my gear. We never did get to jump together which makes me sad," said Erin. Fellow climber, Chamonix-based New Zealander Rachel Service, a video producer, remembers Dan as, "A big, generous, kind soul with an open mind and heart." The other members include previously mentioned Belgian model Alice Baton, Australian tourism executive Monica Cianelli, and the "World's Fastest Woman," American wingsuit pilot Ellen Brennan. None of the women had heard of Duchenne until Lisa shared Dan's vision of helping the boys and young men with the disease.
Dan Vicary's mother, Diane Peterson, is travelling from New Zealand to join Catherine on the climb in Borneo. These two women share the bond of motherhood and loss. They raised two inspiring sons: Dan's vision is being kept alive posthumously by all the climbers; and Dusty's is still unfolding despite the loss of his physicality. "Dusty smiles in the face of adversity greater than any mountain peak," said Catherine. "Dusty anchors me to what is most important and propels me forward to keep having adventures that he can live vicariously through. Dusty has taught me that happiness comes from the inside out. He is always smiling." That is the smile that inspired Dan, and defines the face of Duchenne for many around the world. "It was Dan's dream for us to do this together," said Diane, Dan's mother. Dan's wife Lisa strikes a poignant chord when she says, "You cannot pay respects to someone by sitting in a darkened room, especially not someone so completely full of life."
To join Expedition Mt. Kinabalu 2015, and be part of our international team, please contact catherine(at)coalitionduchenne(dot)org.
About Coalition Duchenne
Coalition Duchenne was founded in 2011 to raise global awareness for Duchenne muscular dystrophy, to fund research and to find a cure for Duchenne. Coalition Duchenne is a US 501c3 non-profit corporation. Its vision is to change the outcome for boys and young men with Duchenne, to rapidly move forward to a new reality of longer, fulfilled lives by funding the best opportunities for research and creating awareness. Coalition Duchenne has several research initiatives that are making advances in potential cardiac and pulmonary treatments for sufferers of Duchenne and other muscle weakening conditions. Their most recent success was funding a team at Cedars-Sinai Medical Center in Los Angeles, California led by Dr. Eduardo Marbán to do a Preclinical Study Using Cardiac-Derived Stem Cells in Duchenne Muscular Dystrophy. The study showed great promise and the approach is being commercialized by a Los Angeles based biotech Capricor which will recruit subjects for trials this year. For more information about Coalition Duchenne, visit http://www.coalitionduchenne.org.
About Duchenne muscular dystrophy
Duchenne muscular dystrophy is a progressive muscle wasting disease. It is the most common fatal genetic disease that affects children. Duchenne occurs in 1 in 3,500 male births, across all races, cultures and countries. Duchenne is caused by a defect in the gene that codes for the protein dystrophin. This is a vital protein that helps connect the muscle fiber to the cell membranes. Without dystrophin the muscle cells become unstable, are weakened and lose their functionality. Life expectancy ranges from the mid teenage years to the early 30's.