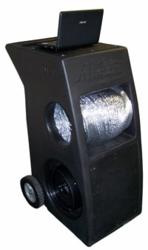 Duct leakage in American homes averages 30%.
Las Vegas, NV (PRWEB) June 26, 2013
Air-Care, a division of DPL Enterprises, announced that their latest air duct leakage tester, the DLT-5, has confirmed earlier independent studies that duct leakage in American homes averages 30%. This is significant, according to Air-Care President, Richard Papaleo, because sealing ducts is much less expensive than other forms of energy saving projects, such as installing double pain windows or replacing insulation. Papaleo continued that the amount of energy saved by the relatively inexpensive process of sealing the air ducts is greater than 10% in most homes and that is hard to match with any other renovation.
"We have found huge leaks due to a duct not being properly attached to its registers and just popping off," said Wayne Tracy, Field Operations Manager. "Not only is 30% of the energy lost, but the SEER energy rating and capacity of the system drops by 30% so it must run longer and wears out years early," Tracy added.
Air-Care has collected feedback from users to add features that make their latest model Duct Leakage Tester more user-friendly. To eliminate the most common error in Duct Pressure Testers, the DLT-5 has a Netbook computer that displays all raw data and calculated values simultaneously. Field Technician, Sean Connely says, "The DLT-5 sets the defaults to the most common settings, then prompts you to verify that these are appropriate for the current test."
This eliminates the most common type of errors in Duct Pressure Testing, and eliminates the need to re-test," he continued.
"Air-Care's DLT-5 is housed in a wheeled cart with a Netbook for the computer and storage for all the testing supplies and hoses," said Mary Dziak, Marketing Manager. "The molded cabinet, about the size of a small duffle bag, is rolled into place, and ready for testing since all interconnections are internal," says Dziak. Air-Care also offers a compact USB printer to print out summary or detailed reports and saves them as pdf files or the technician can email them if Wi-Fi is available.
For more information on the DLT-5, contact Air-Care at 1-800-322-9919.