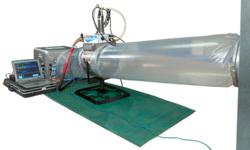 East Syracuse, NY (PRWEB) May 23, 2011
JMD Corporation, owners of Aeroseal LLC, today announced the launch of the "new Aeroseal" with a program focused on helping HVAC business owners and other contracting professionals rapidly increase business revenue. The program, aimed at meeting the growing nationwide demand for Aeroseal services, gives new dealers everything they need to quickly become successful Aeroseal service providers and active players in the flourishing home energy conservation market.
JMD recently acquired AEROSEAL LLC from Carrier Corporation. The new Aeroseal dealer program highlights the company's commitment to ongoing service and support.
As part of the new program, investing businesses receive all of the Aeroseal testing and application equipment and supplies they need to begin. They also receive ongoing training, service, marketing and business support to help ensure continued success. Aeroseal is signing up dealers on a regional basis and is limiting the number of licenses to maximize the success of each licensed Aeroseal service provider.
"We are a totally new Aeroseal dedicated to the success of our partnering service providers," said Neal Walsh, vice president of sales and marketing for Aeroseal. "For a limited investment in supplies and equipment, an HVAC service company or duct cleaning business receives everything needed to begin meeting the growing homeowner demand for effective energy conservation services."
Rated as one of the most effective and affordable means of lowering home energy use, Aeroseal duct sealing is poised to capture a significant amount of the $40 billion energy efficient home improvement market.
According to the U.S. Department of Energy and the Electric Power Research Institute, 25% to 40% of the heating and cooling energy put out by heating, ventilating and air conditioning systems is lost through leaky ductwork systems. Aeroseal plugs the leaks responsible for energy loss, potentially saving U.S. homeowners approximately $25 billion in energy costs every year.
Since Aeroseal works from the inside out, faulty ductwork does not need to be exposed and the location of the leaks do not need to be identified ahead of time. In most cases, the entire Aeroseal process takes between four to eight hours to complete. Significant homeowner cost-savings through energy conservation are realized immediately.
"As an Aeroseal dealer, I've become the leader in home comfort solutions," said Steve Schmidt, president Fredrick Air Inc. a Maryland-based HVAC service company. "We are able to provide duct sealing for our own customers in addition to becoming the "dealer of choice" for all the other contractors and home energy auditors in our service area. I have found the initial investment is well worth the long term benefits of being the leader in the industry and having the ability to recommend solutions that others simply cannot offer."
About Aeroseal Technology
First developed in 1994 by researchers at the Lawrence Berkeley National Laboratory and funded by groups such as the Environmental Protection Agency (EPA) and Department of Energy (DOE), Aeroseal technology provides a highly effective method for sealing leaky ductwork in residential homes and commercial buildings. The process involves injecting a fog of sealant particles into the duct system. The particles seek out leaks within the ductwork and quickly collect around them to create an airtight seal. The Aeroseal process has proven to be the most effective, affordable and viable method of sealing leaky ductwork systems – a problem that plague about 90 percent of homes and buildings in the U.S. today. Currently, more than 75,000 homes and 400 commercial buildings throughout the U.S. have been treated with Aeroseal.
For more information on becoming a licensed Aeroseal representative or to learn more about Aeroseal technology call (877) 349-3828 or visit http://www.aeroseal.com.
###