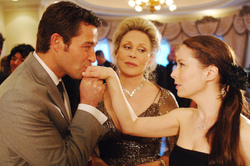 Her acting was amazing, and she looks pretty hot in our film
Hollywood, CA (PRWEB) February 14, 2009
Old stars don't fade away, especially icons like Faye Dunaway, who recently locked horns with "Stepford Kid" Hilary Duff of Disney fame. Duff is reprising Dunaway's Academy Award nominated role of Bonnie Parker in the remake of "Bonnie and Clyde." While it is true that Duff's name will sell tickets, it is doubtful that Duff's reprisal will come close to Dunaway's, whose Oscar winning performances have catapulted films like "Bonnie and Clyde," "Chinatown" and "Network" into icon status, and created a benchmark that makes many a film maker wary of doing a remake.
Dunaway will prove again this Spring that she is the consummate international movie star, not a "Barbie doll" creation of the new studio system, which runs on seven cylinders of hype and special effects and only one cylinder of talent. On May 4, 2009, Faye will have her rebuttal against Duff on the big screen when she stars as Jacqueline de Rossy, the elegant matchmaker in "Say it in Russian," an award winning romantic thriller that debuts in theaters as part of Carmike Cinemas and Dalton Pictures' Independent Film Series, produced by Imperia Entertainment, Inc. (OTC: IMPN).
"Her acting was amazing, and she looks pretty hot in our film," said Jeff Celentano, Director. In fact, Faye proved she was no old lady on the set when a fire sprinkler went off and the Fire Marshal tried to shut down shooting. Hiking up her one of a kind dress, the last design for a film ever made by the late renowned fashion designer, Oleg Cassini, especially for Faye, she waded through the water, giving cleanup orders to the crew. "She was like our own unsinkable Molly Brown," said Celentano.
Filmed in Paris, Moscow and Los Angeles, with award winning exceptional cinematography and a fully orchestrated original score by Russian Superstar Igor Nikolaev, "Say it in Russian" stars Russian actress Agata Gotova, in the lead role of the film as Daria Larina, the daughter of a rich Russian mafia oligarch played by Serbian actor Rade Serbedzija. Gotova's character falls in love with the American Andrew Lamont, played by actor Steven Brand, but Andrew soon finds on a visit to Moscow that he is involved with a family that is more complicated and dangerous than he ever imagined. Faye Dunaway plays the role of Jacqueline, a Paris socialite who acts as the matchmaker for Andrew and Daria.
"Say it in Russian" is the official selection for the 2009 Honolulu International Film Festival, the 2009 Omaha Film Festival, the 2008 Geneva Film Festival, and the 2008 Other Venice Film Festival, and the winner of Best Big Budget Film from the Myrtle Beach International Film Festival, a Silver World Medal from the New York Festivals 2009 International Film and Video Awards, Winner of Best in Show from The Indie Distribution Fest, as well as the winner of The Indie Fest's Award of Excellence in Cinematography and Award of Merit for Actor Rade Serbedzija. The producers plan a series of unprecedented Hollywood style red carpet gala events in several selected venues to kick off the theatrical release.
###