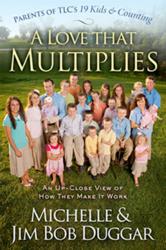 The Duggars are the #1 program on TLC
Nashville TN (PRWEB) June 23, 2011
Their previous book 'The Duggars: 20 and Counting!: Raising One of America's Largest Families--How They Do It' became a four-time New York Times Best Seller. On Amazon it still consistently has high sales rankings and has been the #1 Top Rated Book in Kindle Sales in its genre. A wealth of information is available at http://www.duggarfamily.com.
TLC's 19 Kids and Counting Season 5 also kicked off on June 7th and will continue to focus this season on the extra-extra large family, which by today's standards is 7 times the size of the normal family and how they manage to get through everyday life's ups and downs with their continuing expanding family. The eldest sibling Josh and his wife just had their second child and will be learning the ins and outs from Mom and Dad on balancing multiple children and businesses. The show attracts over a million viewers per week.
A Love That Multiplies focuses on the principles that equip them to face life's challenges—drawing from their most recent struggle with the 3-month premature birth of their newest child, Josie. They also share how they are preparing their older children for life. Central to the book is a section on the principles that the Duggars have consistently taught their children. These simply worded principles are basic to the Duggar family and are shared in a way that other families can incorporate in their own homes. A special chapter on homeschooling gives valuable information to parents who are considering this route or are already invested in it. The world continues to be amazed by their nineteen well-groomed, well-behaved, well-schooled children and their home life, which focuses on family, financial responsibility, fun—and most importantly, faith. The Duggars show how parents can succeed whether they're rearing a single child or several.
For media request please contact:
Shannon Martin at TLC: 240-662-3004 shannon_martin(at)discovery.com
###