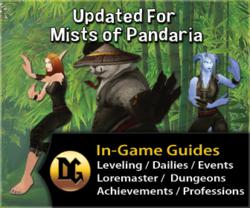 Los Angeles, California (PRWEB) September 25, 2012
September 25th opens a brand new saga in the World of Warcraft universe as the worldwide community gets to explore a brand new continent, a new race, the Pandaren and a new player class, the Monk. With more than 10 million active subscribers, the Mists of Pandaria(MoP) expansion set will bring new challenges for the inhabitants of Azroth as well as new game mechanics (Source: en.wikipedia.org/wiki/World_of_Warcraft:_Mists_of_Pandaria). To help players get an early start, Dugi Mists of Pandaria guide has been released offering key information on how to master the game and reach level 90 faster than other players.
Also known as Dave Farrell, Dugi has been a dedicated player since the game has launched and got himself involved into multiple charity events funded by his game guide business. Dugi has been creating World of Warcraft guides for the last few years, covering all the expansions. Behind his products, an active community has developed and almost all his clients continue to get his products due to the high level of quality that comes straight from a hardcore World of Warcraft player, Dugi himself.
Like before, Dugi's guides are built as addons, making it very easy to play the game and receive a helping hand from the author. All the automated tools are meant to reduce traveling time and optimize questing to make leveling faster. To make it possible, Dugi has created multiple modules to create smart maps, waypoints, 3D model previews and advanced quest tracking.
Dugi's Wold of Warcraft guides follow a strict pattern in terms of quality and functionality as it aims to integrate all the required information into simple to use in-game addons. Here are the game addons included:

Automated quest tracking, preview, objective's list and 3D object window showing in advance what the player should look for.
Map preview guides the player to the destination even for unexplored areas, making them complete quests faster.
Guide Suggestion Mode attempts to offer the player the best route and what quests to complete in an specific order to save time and level faster.
Multiple Objective Tracking can monitor all the quests that the player picks up.
Taxi System makes routes shorter by creating waypoints, reducing travel time.
Race Optimization makes the guide different for each race in the game in an attempt to make the leveling experience as short as possible.
All these features are included by default in the full version of Dugi Mists of Pandaria Guide. Players can get an early start by out-leveling their friends.
For more details about Dugi MoP Guide, go to http://dugimistsofpandariaguide.com.