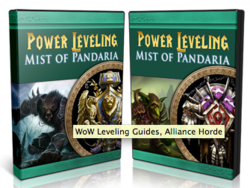 Portland, OR (PRWEB) January 14, 2013
The World of Warcraft Leveling Guide by Dugi (Dave Farrell) has finally been released after much anticipation and is helping gaming enthusiasts everywhere reach top levels in a matter of days—an achievement that is virtually impossible for a solo player. Unlike other World of Warcraft leveling guides, Dugi's team was bold enough to spend more than three years developing a perfect system for helping gamers level quickly and efficiently.
After a quick review of the Dugi WoW Leveling Guide, Kelly Sheraton believes this program the best gaming guide available on the market to help even the most casual gamers achieve levels that would otherwise take months, or even years to reach. Early users have been stating that the guide takes the hassle and time commitment out of the game and helps them to enjoy it by achieving more quickly.
Kelly Sheraton says "Dave Farrell is the most knowledgeable person I have met on leveling in WOW. Anyone looking for help with leveling needs to see what he is doing."
"I've been using the guides for a little while now, and I have enjoyed the progress they have helped me make through leveling and question," said enereliad, a member of the
Dugi Guides forum. "A lot of work and dedication obviously goes into the guides and the attention to detail is remarkable."
R.howie, another member of the Dugi Guides forum, said, "This guide is direct and quick on where to go, what to do and when to do it. Thank you Dugi and all your staff for create a great high-speed leveling guide."
In order go from level 1–85 in the fastest way possible, gamers would have to memorize the exact order of more than 2,000 routes to know which to complete first. Over the years of development, Dugi and his team have created a guide that tells users exactly which routes to take and when to take them to help them achieve this highest level for their character in seven days of playing time.
Those who wish to buy the guide should visit the official site here. On the site, one can access the program plus take advantage of the generous offer being made by Dave Farrell.
Dave Farrell has only made a limited number of these discounted memberships available so that he can provide those who invest in the product the best level of service. Included in the product is access to the complete in-game guide that automatically detects routes and quests for utmost efficiency. The guide works for any character so gamers can eventually have the luxury of using whatever character they want, whenever they want.
To get immediate access to the guide, go to the Dugi Guides website here.
The in-game guide is compact and designed to fit anywhere in the computer screen. The program is lightweight and won't slow down computer load time during games. Dugi's Leveling Guide lets gamers play on autopilot without having to worry about what to do next.
About Kelly Sheraton
Kelly has been playing WOW for years. She is well known in the community as someone that provides advice and the general know how for people to be more successful in WOW.