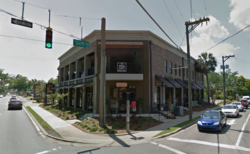 According to Florida DMV records there were 33,625 convictions for driving under the influence (DUI) in Florida in 2011 – that's close to 100 per day
Tallahassee, Florida (PRWEB) May 18, 2013
The Tallahassee criminal defense firm, Casey & Torres, is continuing its growth in the Tallahassee area with the opening of a new law office. Matthew Casey and Christopher Torres are Tallahassee criminal defense attorneys with a combined 30+ years of experience, including the handling of over 1000 cases and 130 trials.
Located at 1240 Thomasville Road, Suite 200, the new office of Casey & Torres, Attorneys at Law, is in the beautiful Orleans Building directly above the Wine Loft in the heart of midtown Tallahassee.
With the opening of the new office, the law firm of Casey & Torres looks to build on its reputation for providing the highest level of legal services to criminal defendants in need of fair and assertive representation. Casey & Torres handle all types of misdemeanor and felony criminal cases. The practice also has a special focus on issues involving professional licensees.
"We've been planning to open an office in midtown Tallahassee for a while, and the location is just perfect," said Chris Torres, co-founder of Casey & Torres. "We're seeing an increase in incidences of DUI and white collar crime in the Tallahassee area and feel confident these individuals and the whole community will be better served with experienced and professional legal services at a convenient location."
According to Florida DMV records there were 33,625 convictions for driving under the influence (DUI) in Florida in 2011 – that's close to 100 per day. It is undeniable that a DUI conviction can cause a lifetime of pain in the form of fines, insurance premiums or even civil damages. As a result, those accused of DUI, need an experienced and effective DUI attorney Tallahassee. At Casey & Torres, clients do not get a first-year associate handling their case, as is the practice at many firms. Rather, clients of Casey & Torres speak to either Matt Casey or Chris Torres, partners of the firm.
Defendants wanting in learning more about their rights or interested in scheduling a free consultation can visit http://www.tallahasseedefense.com for more information.
About Casey & Torres
Casey & Torres handle all types of misdemeanor and felony criminal cases, from DUI to more serious felonies. Matthew Casey and Christopher Torres welcome the opportunity to handle your legal matters. Matthew has over 14 years of legal experience, with over fifty criminal jury trials as well as many serious and complex disciplinary cases involving professional licensees. Chris has experience as a criminal prosecutor, working for the Florida Department of Health in Prosecution Services and serving as regional counsel for the Attorney General's Office of Medicaid Fraud Control Section. As a result of their extensive experience, the law firm of Casey & Torres is the best choice for issues involving professional license.