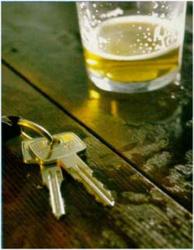 A DUI arrest will cost a driver thousands of dollars, which is basically money down the drain. In many of my cases, I am able to improve my client's situation substantially.
Sacramento, CA (Vocus/PRWEB) March 09, 2011
Matthew Becker, a traffic and DUI attorney in Sacramento and the Bay Area, doesn't think increasing the consequences of first offense DUI incidents in California and harsher penalties prescribed in new DUI laws are increasing deterrence or improving public safety.
"The criminal defense system in California can be vicious," said Matthew Becker, Bay Area DUI attorney. "A DUI arrest will cost a driver thousands of dollars, which is basically money down the drain." Becker tells people that the best thing to do is take a cab if they have been drinking, but if it is too late for that—they need to hire a DUI-focused lawyer to represent them. "In many of my cases, I am able to improve my client's situation substantially," continued Becker.
Fines for a first time DUI in Northern California vary from as low as $1500 to as high as $2800, not to mention substantial increases to car insurance rates. State law also now mandates a minimum two days in jail, which many work off in some sort of alternative work-release program.
A first offense conviction also carries an automatic six month court suspension, which is entirely separate from the DMV's four to six month suspension. One month of this must be a "hard" suspension, meaning no driving for any reason.
"DMV suspensions can overlap court suspension to shorten the overall loss of driving privileges, but this is only true if the driver pleads guilty at the first opportunity and waives all constitutional rights in the criminal case," said Becker. "The DMV pushes the hearings so fast that driver who are honestly not guilty are often found 'responsible' by a DMV employee before the first motion in the criminal case can even be heard—much less before a trail can be held."
Because of this, the 30-day hard suspension can affect the innocent while they are fighting the charges. For people who drive to work every day, they can forget about it during that time. Furthermore, those who are convicted must complete a lengthy set of DUI classes in order to qualify for a restricted or unrestricted license. These classes are expensive, time intensive, and hard to get to without a driver's license.
In California, Placer County and San Mateo County usually seek the harshest first offender DUI penalties, with Santa Clara County not far behind. Placer County often pushes for the minimum two-day jail time sentence to be extended to two weeks. Placer County has also placed offenders in jail for simple traffic violations, such as red light tickets, during the driver's three or more years of probation.
For these reasons and others Becker urges individuals charged with a DUI to seek a DUI attorney, whether or not they are guilty, to avoid higher penalties which can add hundreds of dollars of extra costs, not to mention several extra days of jail time.
"The judge will give a lot of detailed instructions in any sentencing and it is a good idea to have an attorney there to interpret what was said and provide guidance on getting through the court proceedings and getting on the right track as far as complying with the sentence," said Becker. "A sizable number of people who are unrepresented end up with violations of probation due to misunderstandings that just don't happen when an attorney is present."
Drunk driving attorney fees can total up to $10,000 or more, depending on the attorney. Matthew Becker charges a flat rate of $2,500 per case if a settlement is the desired outcome or $3,500 if the right to a jury is desired from the start. This helps drivers limit the costs of the defending themselves in a DUI case.
For more information about first offense DUI convictions or any other legal service provided by Matthew Becker, contact The Becker Law Practice at (916) 668-4723 or view them on the web at http://www.californiaduilawyers.co, or visit their office located at 25 Cadillac Drive; Suite 270, Sacramento, CA 95825.
About The Becker Law Practice
The Becker Law Practice is an provides representation for clients accused of Driving Under the Influence (DUI), or traffic and red light tickets in Sacramento and Bay Area Courts. Matt Becker, a Sacramento, Bay Area and San Jose DUI attorney has helped dozens of wrongfully ticketed individuals challenge red light tickets successfully in addition to defending DUI clients.
# # #