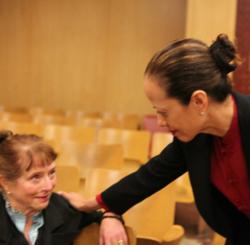 A qualified attorney can review the case for defects, have blood samples analyzed independently, compel discovery of calibration and maintenance records for the breath machine, suppress evidence
San Francisco, CA (Vocus/PRWEB) July 19, 2011
The Fitch Law Office's DUI Division promotes the efficient administration of drunk driving cases for the mutual benefit of the courts, litigants, attorneys, jurors and the general public. The law office is now located at 877 Bryant St., Suite 210 in San Francisco. The office is conveniently located across the street from the San Francisco Hall of Justice Courthouse.
The DUI division is overseen by an expert in DUI prosecutions and defense, Angeli R. Fitch, the founder of Fitch Law Office and a member of the California DUI Lawyers Association.
"A qualified attorney can review the case for defects, have blood samples analyzed independently, compel discovery of calibration and maintenance records for the breath machine, suppress evidence, negotiate for a lesser charge or reduced sentence and contest the DMV license suspension," said Angeli Fitch.
Drunk driving is a serious offense and a competent defense is needed for this highly specialized case. Hiring a DUI attorney can help the accused in the process of providing evidence and mounting a counter attack to the scientific evidence provided by the government. DUI attorneys should also be able to effectively cross-examine the police officer who conducted the field test. Determining what the blood alcohol content was at the time of driving is a complex process and DUI attorneys are needed to provide this assistance to the accused.
People should not take DUI cases lightly because it can lead to serious damages through fines and jail time. Hiring a DUI Attorney can provide a legitimate defense and protect the accused's constitutional rights.
For more information about the Fitch Law Office, call (415) 240-4435, view them on the web at http://www.fitchlawofficesf.com or visit their office, located at 877 Bryant Street, Suite 210, San Francisco.
About The Fitch Law Office
The Fitch Law Office is a San Francisco DUI and personal injury attorney firm that specializes in criminal defense, marijuana law and defense litigation, financial elder abuse and elder rights and personal injury civil litigation in San Francisco. Angeli Raven Fitch is the founder of the Fitch Law Office and has tried numerous cases in both state and federal court in the last decade.
###