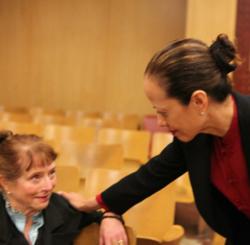 Hiring Angeli Fitch to fight my DUI charge was the best thing I did. Her knowledge of science and perseverance to fight led to the dismissal of my case
San Francisco, CA (PRWEB) September 27, 2011
The Fitch Law Office of San Francisco now offers a free consultation with a DUI Attorney. Angeli Fitch, Esq. believes arrests for suspected DUI are increasingly common, and the legal advice people usually get from friends is that DUI defense is a no-brainer.
"It is a stressful experience to spend the night in jail, suposedly to sober up only to find out that when released that you are facing criminal charges in court and have a suspended license from the DMV," said Fitch. "A Fitch Law Office DUI attorney, if contacted immediately after the arrest, might be able to save the client's license from being suspended by the DMV."
DUI laws and consequences are a complex and specialized area of law. Before stepping into this situation alone, the Fitch Law Office of San Francisco highly recommends seeking a free, no-obligation consultation with a qualified DUI attorney.
"Hiring Angeli Fitch to fight my DUI charge was the best thing I did," said one DUI client, who wished not to be identified. "Her knowledge of science and perseverance in fighting the charge led to the dismissal of my case."
The Fitch Law Office has limited free 30-minute consultation slots with DUI attorneys, so they encourage those facing charges contact them as soon as possible after the arrest.
To set up a free consultation, call The Fitch Law Office at 415-240-4435. The office is located at 877 Bryant Street in Suite 210, across from the court house in San Francisco. For more information about The Fitch Law Office, visit http://www.fitchlawoffice.com.
About The Fitch Law Office
Attorneys at The Fitch Law Office of San Francisco are committed to protecting clients' legal rights and helping them understand the complexities of the legal system while remaining compassionate about their situation. The practice specializes in criminal defense litigation, marijuana law, defense litigation, financial elder abuse and elder rights civil litigation, and has personal injury attorneys to assist with civil litigation.
###