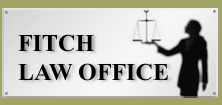 Please be safe for the holidays and avoid drinking and driving, but if you find yourself in any trouble you can contact the Fitch Law Office
San Francisco, CA (PRWEB) December 24, 2011
As New Year's Eve approaches, the Fitch Law Office encourages everyone to be extremely careful before getting behind the wheel after drinking. Arrange for a designated driver or transportation from an event which will be serving alcohol.
With the holiday being one of the biggest events of the year for celebratory drinking and, in turn, for drinking and driving, the Fitch Law Office warns that there will be an increased police presence during the weekend, and should a person find themselves making a big mistake and getting behind the wheel after drinking, and they are caught, the law firm can help.
The Fitch Law Office of the San Francisco DUI attorney can meet for a consultation of approximately one half hour to discuss the circumstances behind the incident and what can be done to prevent an already slightly tarnished reputation from becoming a completely ruined life.
"Please be safe for the holidays and avoid drinking and driving, but if you find yourself in any trouble you can contact the Fitch Law Office," says Angeli Fitch, criminal lawyer of the Fitch Law Office.
To avoid landing in trouble and needing these services in the first place, parties should always designate at least one person who will not drink, so that they can drive the group back home. If the person is alone, either call a friend, a cab, or stay the night. Thirdly, partiers should not over-indulge; it is the surest way to prevent accidents.
For more information, please call 415-240-4435 or visit them online at http://www.fitchlawoffice.com.
About Fitch Law Offices
San Francisco's personal injury attorney of the Fitch Law Office serves the entire Bay Area. Areas of expertise are in the fields of Marijuana Law and Defense Litigation, Personal Injury Civil Litigation, Criminal Defense Litigation and Financial Elder Abuse and Elder Rights Civil Litigation. Their mission is to protect a person's legal rights and helping them understand the complexities of the legal system.
"We will fight for your freedom and be compassionate with your situation."
###