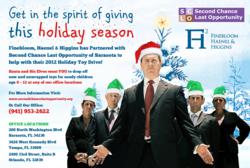 To be able to bring joy to kids through holiday toys – well, what could be better than that? We are happy to be a part of this community effort
Sarasota, Florida (PRWEB) December 07, 2012
Sarasota criminal defense law firm Finebloom, Haenel & Higgins has partnered with Second Chance Last Opportunity of Sarasota to help provide holiday meals, and as a drop-off point for the charity's annual Toy Drive.
"When I read in the newspaper that there were families going without Thanksgiving dinner, I knew that we had to assist," says attorney David Haenel, a founding partner of the firm. "Second Chance Last Opportunity provides such important services to at-risk teens and those who are homeless and with low incomes, and we are so pleased to partner with them in their efforts." Adds attorney and business partner Darren Finebloom, "To be able to bring joy to kids through holiday toys – well, what could be better than that? We are happy to be a part of this community effort."
Clients, friends and employees of the firm are encouraged to donate new, unwrapped toys appropriate for children from newborn through age 12. The children enrolled in Second Chance Last Opportunity's programs will choose their own gifts at the organization's holiday party, which will be held Saturday, December 22.
Cutoff date for donation of toys and gifts is Thursday, December 20. New, unwrapped toys may be dropped off at the office of Finebloom, Haenel & Higgins, 200 North Washington Blvd., Sarasota – (941) 953-2622.
Second Chance Last Opportunity
Second Chance Last Opportunity is a hands-on intervention center in Sarasota, whose programs include life management and parenting skills training, counseling, mentoring, HIV-AIDS education and counseling, summer and after-school youth programs, food, clothing and shelter referrals, food distribution, and holiday meals and toys. For more information about how to assist Second Chance Last Opportunity, go to their website at http://www.secondchancelastopportunity.org/.
Finebloom, Haenel & Higgins
Founded in 2004, Finebloom, Haenel & Higgins is a Florida criminal defense law firm. Its team of aggressive attorneys fights cases involving DUI, license suspensions, drug charges, juvenile offenses, battery and other crimes. Telephone calls are answered seven days a week, and case consultations are free. The firm has offices throughout Florida in Sarasota, Tampa, Orlando and Clearwater. For more information about the firm, call (941) 953-2622 or go to http://www.fightyourcase.com
###