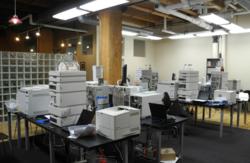 I am dedicated to representing people accused of driving under the influence, and I boast a reputation throughout California for top-notch trial skills
Santa Rosa, CA (PRWEB) August 18, 2012
Santa Rosa's DUI lawyer, Jon W. Woolsey, now boasts several certificates of completion for training programs that are essential for any drunk driving attorney who handles the practice of DUI laws and DMV administrative licensing hearings. Most recently, Woolsey successfully completed the hands-on, 40-hour, five-day Forensic Chromatography course held in Chicago, Ill., at Axion Analytical Laboratories.
But what's so important about understanding how the Department of Justice laboratories and its subcontractors evaluate blood and urine samples? The importance lies in the understanding that gas chromatography (GC) is the means by which the lab that analyzes a defendant's blood or urine attempts to identify what the substance is in a person's system and quantify how much of that substance is present.
The GC is the most widely used analytical instrument in the world but may also be the most widely misused instrument when offered as evidence in a DUI alcohol or drug of choice prosecution. The reason for this is that most defense attorneys have no idea where the "magic" number comes from, how it was derived, or why and how it needs to be challenged. After all, GC practitioners, such as DOJ analysts or DOJ testifying experts, learn from those who preceded them and that means the propagation of errors will likely result in myths, half truths and other inaccurate measurements resulting in testimony used to convict potentially innocent people.
The Axion Laboratories course was designed and taught by Dr. Harold McNair, widely viewed as America's first pioneer of modern absorption-based chromatography, and Dr. Lee Polite, the national instructor for the American Chemical Society's "Practical and Applied GC."
Woolsey is one of less than 100 attorneys in the U.S. who has successfully completed the Axion Analytical Laboratories' program. Every attorney who handles blood and urine, alcohol and drug DUI cases must be better trained than the district attorney who prosecutes the client and at least as knowledgeable as the blood draw technician, the analyst and the chemist.
Among Woolsey's other certifications are the training for:
1) Performance and instruction of field sobriety and roadside tests, routinely given to all suspects stopped by law enforcement in California. These tests are standardized and validated by the National Highway Traffic Safety Administration, a division of the Department of Transportation.
2) Drug recognition expert school, a drug evaluation and classification training program used by law enforcement drug recognition experts (DRE's) and traffic officers.This hands-on course was taught by DRE trainer Anthony Palacios, a retired expert trainer of the Florida Highway Patrol.
3) Mastering scientific evidence in DUI-DWI cases that was put on by the Texas Criminal Defense Lawyers Association. This 20-hour, three-day course involves hands-on training in all forms of breath testing for alcohol, blood and urine testing for alcohol and drugs, as well as training on how to use an expert witness and cross examination of the state, DOJ expert.
4) Preliminary breath testing using the AlcoSensor IV handheld breath alcohol detector used by all law enforcement officers in Sonoma County. Woolsey personally owns and is certified in the theory and operation of these breath analyzers.
"I am dedicated to representing people accused of driving under the influence, and I boast a reputation throughout California for top-notch trial skills, aggressive plea negotiations, and the full use of motions and procedures designed to level the playing field and protect your U.S. and California constitutional rights," Jon Woolsey said. "Because I limit my practice to DUI-related actions, I can give your cause the personal attention it needs and deserves! I deal with your case as though it was my brother's case. You deserve no less."
Lawyer and trial advocate Jon Woolsey is a member of the National College for DUI Defense and the California DUI Lawyers Association. Woolsey's law office, the DUI Defense Center of Santa Rosa, handles driving under the influence cases in Sonoma County, Napa County and Marin County in Northern California.
For more information about any of Jon Woolsey's services, call 707-595-0409 or view the DUI lawyer on the Web at dui911.com.
About Jon Woolsey
The California Law Office of Jon W. Woolsey, a driving under the influence law firm, limits its law practice to DUI defense and DMV license suspension and revocation hearings, eminently practicing throughout the court systems of Sonoma, Napa and Marin and Mendocino Counties.
The law firm provides responsive, superlative legal advice and representation during any hour of the day, seven days a week. Initial consultations are complimentary as long as an extensive interview questionnaire is completed. Only then can Woolsey adequately provide a person with competent and thorough guidance to determine how a case will fair in the courts and at the DMV.