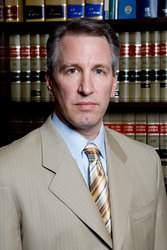 The judge could see that the only reason Stokes was cited for reckless driving was due to his prior traffic violations, and not due to the facts of what occurred in the parking lot
Phoenix, AZ (PRWEB) April 30, 2010
DUI Lawyers in AZ from the law offices of David Michael Cantor obtained a verdict of not guilty in the case of State v. Stokes (City of Scottsdale Court Case No. TR2008028574), a reckless driving case.
In Stokes case, the defendant was leaving a school parking lot in which a security guard was directing traffic. As the guard was directing traffic, he stepped in front of Stokes' vehicle as was bumped by the defendant's car which was traveling a mere 3 mph. As a result the security guard contacted the police, and due to the fact that Stokes had multiple prior driving violations on his record the officer decided to file a criminal charge.
At trial the judge properly found that there was no heightened risk of substantial physical injury or death as required by statute as a result the judge found that the police had overreacted and that Stokes was not guilty of reckless driving.
"The judge could see that the only reason Stokes was cited for reckless driving was due to his prior traffic violations, and not due to the facts of what occurred in the parking lot," said DUI Lawyer in AZ David Michael Cantor.
The Law Offices of David Michael Cantor enjoys an excellent reputation as DUI attorneys in Arizona and throughout the Legal Community because of their aggressiveness, integrity, honesty, and professionalism. For more information about the Law Offices of David Michael Cantor visit DUI in Arizona.
About the Law Offices of David Michael Cantor
The Law Offices of David Michael Cantor feature criminal defense attorneys in Arizona who are ready to represent you. As Arizona's premier defense lawyer, David Michael Cantor defends DUI/ DWI cases, vehicular crimes, homicide, drug and sex offenses, white collar and property crimes. David Michael Cantor is AV Rated - the highest rating possible - and was voted a Top 100 trial lawyer. David Michael Cantor has been interviewed and has appeared on Inside Edition, the CBS Morning Show, Good Morning America, CNN Prime News, Hannitty and Combs, and every local news channel including Univision. In addition, his cases have been covered by CNN, MSNBC, and even Howard Stern.
# # #