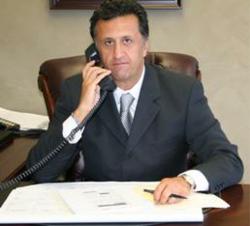 Van Nuys, CA (PRWEB) April 23, 2012
Some traffic tickets can be navigated through by paying the fines or even taking a trip to traffic school. For more serious offenses, such as a driving while intoxicated charge, the process may be slightly more complicated. This is why the leading Van Nuys DUI lawyer, Amir Soleimanian, is now offering his services to all locals that are in need of legal representation as well as instructing them on the "Zero Tolerance" laws that may affect their record and their license.
With grants from the California Office of Traffic Safety, local law enforcement agencies are attempting to increase DUI arrests and convictions with checkpoints and saturation patrols throughout the state. While these charges are going to be overwhelming for any driver, those that are under the age of 21 are going to quickly find themselves in need of a DUI lawyer.
The "Zero Tolerance" laws affect anyone under the age of 21 as they do not allow a minor to have any measurable amount of alcohol in their system. Minors that are tested with a BAC of .01 percent or higher are not only going to be subject to the long list of fines and fees associated with a DUI, they will also be forced to report their DUI to all potential schools and employers for 10 years or longer.
Those that would like to avoid these life-altering penalties are going to need an experienced and local DUI attorney that will not stop until all of the charges have been reduced or removed. This is why more drivers than ever are turning to the Law Offices of Amir Soleimanian and Associates to clear their name and get back on the road.
About Mr. Ticket, DUI Attorney Van Nuys
As the leading Van Nuys DUI and DWI attorney, Amir Soleimanian has worked with countless drivers with over 20 years of experienced in the automobile industry. He maintains a team of the leading DUI attorneys in the state that are ready to take on all DUI cases, no matter the severity of the charge.
Visit http://dui.4mrticket.com or call (800) 828-5525 to learn more about DUI and DWI charges how this attorney can help you avoid the harsh penalties of a DUI conviction.