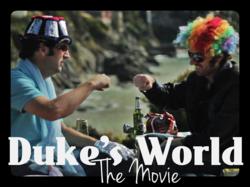 "To see someone just go for it blindly is refreshing yet sort of scary which is something I think makes a great film." - Jacob Chase
Dana Point, Calif (PRWEB) April 17, 2013
Great Recession leads one man to live his dream. Duke Fightmaster, a one time mortgage professional, re-evaluated his beliefs after the mortgage crisis. His realization: Being true to yourself is more important than making money. His Journey is one from mortgage professional to filmmaker. Duke Fightmaster was hit hard by the financial crisis; foreclosure, repossession, and bankruptcy. But from the ashes of a life in a cubical Fightmaster has found his calling.
"At the time everyone I knew was working hard but earning no money, I figured if I'm not going to make any money at least I'm going to do something I enjoy." Fightmaster says, recalling his attitude in late 2007. This was the time NBC announced that Jay Leno would step down from thetonight show and Conan O'Brien would replace him. That's when the idea hit him, to become the replacement for Conan O'Brien!
"Sometimes when you have an outlandish, 'big-deal-chasing' idea, you have to be in some type of denial to even try it," said Duke Fightmaster
With a budget of $0.00, starting in his bedroom, Duke was able to put together a multi-camera talk show with a live audience, a house band, two sidekicks, an ensemble cast, a writing team, and weekly guests. His YouTube channel had more than 800,000 hits. For two and a half years Fightmaster taped over 100 weekly episodes! http://www.dukefightmaster.com/thisamericanlife.htm
"They say it takes 10 years to become an overnight success, I was only 2 1/2 years in and unfortunately I couldn't convince my friends to work for free for the remaining 7 1/2 years," said Duke Fightmaster
After 114 episodes Fightmaster had burned through all his friends, his wife's patience, and any good grace he had with the shows' landlords. Long after Jimmy Fallon had replaced Conan O'Brien Duke finally decided it was time to quit.
"Sometimes when you stop chasing something, it comes to you," said Duke Fightmaster
"I think there's something about Duke that we all have inside of us," said Jacob Chase (Film Director)
At the same time Duke gave up his quest for Conan's old throne, the popular public radio show This American Life featured his story to over 2 million listeners. Duke's phone started ringing with Hollywood directors who wanted to buy his life rights to make a movie.
"To see someone just go for it blindly is refreshing yet sort of scary which is something I think makes a great film," said Jacob Chase (Filmmaker)
Duke is now performing stand-up comedy, releases a weekly podcast, and has a Larry David like web series called Duke's World. Duke won't get to star in the movie about his life-story that's currently in development, but he has written his own movie in which he will star! A movie that is not about his life, but rather a fictional account of a "bromance cheating love triangle". He has launched a kickstarted campaign to raise funds here http://www.kickstarter.com/projects/2076679753/dukes-world-the-movie/backers/report