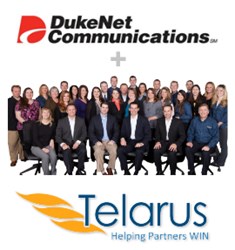 Telarus is key to our channel growth strategy in the Southeast.
CHARLOTTE, N.C. (PRWEB) April 21, 2013
DukeNet Communications, a leading regional fiber provider of high-bandwidth connectivity solutions for enterprise, data center and carrier businesses in the Southeast, announces today that it has signed a Master Agent agreement with industry-recognized value-added distributor, Telarus. The Telarus agreement reinforces DukeNet's commitment to providing its services portfolio and engaging new customers throughout the Southeast.
DukeNet's indirect channel program, established in September 2012, enables national and regional telecom agents, value added resellers (VARs), system integrators and consultants to sell DukeNet's high-capacity optical and Ethernet services to mid-market and large enterprise customers in the Southeast. The Telarus agreement expands and strengthens DukeNet's service commitment across the Southeast by partnering with one of the industry's most recognized and awarded value-added service distributors.
"We are thrilled to be a Master Agent in DukeNet's Channel Partner Program," says Robert Butler, Vice President of Sales for Telarus. "DukeNet's brand strength and commitment to service quality is well-known in the Southeast. The company's reputation for service excellence, combined with its over 7,000 dense fiber route miles in key Southeast markets, give our agent partners another viable alternative to service their enterprise customers."
To give its partners the ability to pre-screen locations serviceable by DukeNet, Telarus programmed its patented GeoQuote system to accurately display the locations of DukeNet's lit buildings in its fiber mapping tool, powered by Google maps.
"The DukeNet channel partner program is six months old and growing stronger with the participation of top-notch distributors like Telarus," states Mike Prendergast, DukeNet senior vice president of Sales and Marketing. "We see tremendous opportunity for advanced transport solutions in the marketplace today. The agreement with Telarus affirms our commitment to deliver best-in-class Ethernet and fiber-based products and services that give agents, VARs and integrators new choices and solutions for their customers here in the Southeast."
DukeNet Communications is a leading regional fiber provider offering advanced data and high-capacity bandwidth services to enterprise, data center, government and carrier customers. For more information on the partner program, visit us at: dukenet.com and follow us on Twitter @DukeNetComm, or call us at (877) 346-3232.
About DukeNet Communications
Headquartered in Charlotte, N.C., DukeNet is a leading regional fiber provider offering advanced data and high-capacity bandwidth services to enterprise, data center, government and carrier customers. Primarily in the southeastern United States, DukeNet's network controls nearly 7,000 route miles of fiber-optic capacity and enables cloud computing and high-bandwidth applications for enterprise business. More information about DukeNet is available at dukenet.com. Follow us on Twitter @DukeNetComm.
About Telarus
Telarus, Inc., a value-added distributor that holds contracts with the world's leading commercial telecommunication carriers, makes it easier and more profitable for solution providers, VARs and MSPs to sell and source voice and data WAN solutions, both over fiber and over copper ethernet. Our patented GeoQuote platform combines real-time carrier pricing with advanced research features and branded proposals. Telarus' experienced sales staff is strategically focused on enterprise WAN and high-capacity bandwidth solutions, making it easier to find the best offer, every time. For its part, Telarus has been named the top Master Agent by the members of the Telecom Association in each of the past three years, the first and only company in the carrier channel to accomplish this feat. Whether you are a top producer or a voice-and-data expert just starting out on your own, there is a place for you in the Telarus community. For more information on the Telarus partner program, please visit telarus.com or call the new partner hotline at 877-346-3232.