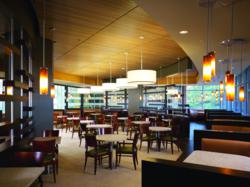 Baylor Charles A. Sammons Cancer Center congratulates Duke Realty and the entire project team on receiving LEED Gold certification.
DALLAS (PRWEB) November 22, 2011
The $154 million, 459,717-square-foot Baylor Charles A. Sammons Cancer Center on the campus of Baylor University Medical Center at Dallas has achieved Leadership in Energy and Environmental Design® (LEED) Gold for Core & Shell (CS) certification. Developed and operated by Duke Realty, it is one of the largest Texas buildings of any type to earn such a high level of "green" building recognition using the LEED-CS Rating System.
The LEED Green Building Rating System, developed by the U.S. Green Building Council, is an internationally accepted benchmark for the design, construction, operation and maintenance of high performance green buildings. LEED Gold certification recognizes that Duke Realty has developed a building that meets a high level of stringent, environmentally friendly and energy-efficient standards.
"Baylor Charles A. Sammons Cancer Center congratulates Duke Realty and the entire project team on receiving LEED Gold certification," says Wes Huff, Director of Real Estate for Baylor Health Care System. "We are proud that our healthcare campus is providing the highest quality healthcare to the community and receiving this type of recognition. Our future construction ventures can look to Baylor Sammons Cancer Center as the standard in protecting the environment and maximizing energy efficiency."
Duke Realty executives noted that through all stages of the project, from groundbreaking through construction and operation, they planned and incorporated LEED strategies that helped them surpass their initial goals.
"When we developed our project goals and budget, we were determined to achieve a minimum of LEED Silver certification," says Deeni Taylor, Executive Vice President, Duke Realty. "But by carefully planning early on and using an integrated design process with all design and construction team members, we were able to achieve LEED Gold certification and with no increase in the budget. We are very delighted to have earned this prestigious recognition for the high-performance, green Baylor Sammons Cancer Center."
The facility earned the distinction after the project team submitted a detailed application outlining a variety of energy efficiency, environmental quality and sustainable strategies required for certification and scoring 38 LEED rating points. Some of the strategy highlights were these:
● The cancer center is 14 percent more energy efficient than required by commercial building energy codes.
● The facility uses 30 percent less water than the Environmental Protection Agency's baseline requirements.
● The facility used more than 90 percent green power during construction.
● Twenty-one percent of the building's core shell was made of recycled materials.
● The facility features low Volatile Organic Compound (VOC) emitting materials, including wallpaper, carpet and adhesives for floor tiles. High exposure to VOCs can cause adverse health effects.
● The cancer center incorporates design elements, including underground parking and a white roof, to reduce urban heat island effects such as decreased air and water quality.
● More than 95 percent (14.4 million pounds) of construction waste material was recycled.
● Fifty-one percent of the construction materials were shipped from within 500 miles of the job site, which reduced the impact on the environment from lower vehicle emissions and promoted the regional economy.
The 10-story Baylor Charles A. Sammons Cancer Center, which was completed this March, is the largest cancer care facility in North Texas and is anchored by Baylor University Medical Center at Dallas and Texas Oncology. The facility houses a dedicated radiation oncology wing with four linear accelerators, as well as a diagnostic imaging center with MR, PET and CT scanners. It also includes an outpatient clinic; oncology, breast oncology, multi-disciplinary and transplant clinics; infusion therapy and blood and marrow transplant areas; and space for research and clinical trials.
The project was a joint venture of Duke Realty and Milwaukee-based Northwestern Mutual Life Insurance Co. Inc., the general contractor was Dallas-based MEDCO Construction and the architect was the Dallas office of Perkins+Will.
Baylor Charles A. Sammons Cancer Center occupies nearly 5 acres across from Baylor's former inpatient and outpatient cancer care complex, which is being converted to a 100 percent inpatient facility and support areas as part of a separate $37.4 million, 181,432-square-foot renovation project. That project is expected to be completed in early 2013.
About Duke Realty
Duke Realty owns and operates approximately 143 million rentable square feet of industrial and office assets, including medical offices, in 18 major U.S. cities. Duke Realty Corporation is publicly traded on the NYSE under the symbol DRE and is listed on the S&P MidCap 400 Index. More information about Duke Realty is available at http://www.dukerealty.com.
With more than 20 years in the industry, Duke Realty's healthcare team offers proven experience in providing hospitals and physician groups comprehensive planning, development, ownership and facility management services. Duke Realty's medical office portfolio consists of 29 buildings totaling 2.9 million square feet with 308,000 square feet in the development pipeline. Projects have ranged from small medical office buildings to large healthcare centers with diagnostics, oncology and surgery services.
Duke Realty's healthcare division was created by the February 2007 acquisition of Bremner Healthcare by Duke Realty. To find out more, please visit http://www.dukerealty.com/healthcare.
"LEED" and related logo is a trademark owned by the U.S. Green Building Council and is used by permission.
###