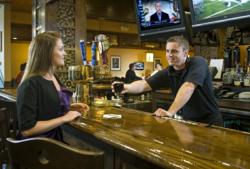 It's great for kids and adults!
Sterling, VA (PRWEB) October 09, 2012
O'Malley's Pub Dulles has recently launched a new, unique feature for its customers, called "The Approach Zone." The Approach Zone allows O'Malley's customers to wear wireless headphones and listen in on the air traffic controllers at Dulles (IAD) Airport as they communicate with the pilots of landing and departing planes.
Located less than two miles from Dulles Airport, The Approach Zone is a very simple, yet unique service feature that allows both adults and children alike to experience a glimpse into the world of air traffic control. The pub offers free wireless headphones and has the radio frequency pre-set to the Air Traffic Control station.
And not only can you tune in to listen to the air traffic controllers, but also you can even sit inside under O'Malley's skylight windows or outside on their oversized patio and watch the planes as they come in and take off. As one of the busiest airports in the country, Dulles certainly provides a lot of take-offs and landings to listen to; over 1,000 flights come in/out of IAD each day.
"Given our proximity to Dulles Airport, this was a natural fit for us," says Joanna White, O'Malley's Pub Dulles Pub Manager. "This is a cool way for us to offer a unique experience that plays off of the surrounding area in a way that no one else is doing… that we know of. And, it's great for kids and adults!"
O'Malley's Pub is well-known around area as one of best casual lunch restaurants and happy hour bars in Sterling, VA. O'Malley's offers a popular group happy hour party option where they will provide $100 of free appetizers to any group of 15 people or more.
About O'Malley's Pub
O'Malley's is a fun, clean, and comfortable Irish-style American pub with a cool, laid back vibe; relaxed and approachable happy hour scene; and reliable, timely lunch and dinner pub fare served in a friendly environment.
Located in the Holiday Inn Dulles Airport hotel, O'Malley's Pub Dulles is a family-friendly restaurant with a warm and familiar pub atmosphere, featuring ample seating at and around a prominent bar.
With key features such as a private dining area and an oversized outdoor patio with plush seating, O'Malley's Pub Dulles is Sterling, Virginia's number one business lunch and happy hour venue. As the primary food outlet for over 800 hotel rooms in a quarter mile radius, O'Malley's menu ranges from deliciously simple comfort foods to tender steaks and fresh seafood. O'Malley's also delivers food directly to the guestrooms of local hotels. O'Malley's is ideal for out of town guests staying at a local hotel to come relax, meet new people, enjoy a cold beer and good food, or watch sports on one of the 20 flat panel high definition TVs.
For travelers staying near Dulles Airport, as well as local Sterling, VA businessmen and women, O'Malley's Pub Dulles is a local favorite because of its reasonable prices, friendly and efficient service, and clean and comfortable atmosphere.