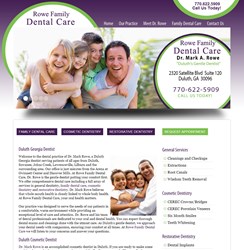 We are honored to earn the highly coveted Angie's List Super Service Award for the year 2013. We will continue to serve the residents of Duluth... with a level of customer service and patient care that is worthy of this prestigious award. Dr. Mark A. Rowe
Duluth, GA (PRWEB) January 10, 2014
Rowe Family Dental Care, located at 2320 Satellite Boulevard, Suite 120 in Duluth, Georgia, has earned the coveted 2013 Super Service Award from popular consumer review company, Angie's List. The award is based on reviews from current and past customers and reflects an exemplary year of service provided to members of the consumer review service in 2013.
Angie's List is a website where more than 2 million households go to get ratings and reviews on more than 720 categories of service ranging from home repairs to healthcare. Angie's List Super Service Award winners must meet strict eligibility requirements including an "A" rating in overall grade, recent grade and review grade. Winners must also be in good standing with Angie's List, have a fully complete profile, pass a background check and abide by Angie's List operational guidelines. According to Angie's List founder, Angie Hicks, "Only about 5 percent of the companies Rowe Family Dental Care competes with in Atlanta are able to earn our Super Service Award. It is a mark of consistently great customer service." When asked about this award, Dr. Mark A. Rowe of Rowe Family Dental Care had this to say, "We are honored to earn the highly coveted Angie's List Super Service Award for the year 2013. We will continue to serve the residents of Duluth and the surrounding areas with a level of customer service and patient care that is worthy of this prestigious award."
On Angie's List, service company ratings are updated daily. Companies are graded on an A through F scale in areas ranging from price to professionalism to punctuality. Members can find the 2013 Super Service Award logo next to company names in their search results on Angieslist.com.
About Rowe Family Dental Care:
Rowe Family Dental Care is a comprehensive dental practice located in Duluth, Georgia. Dr. Mark A. Rowe and the staff at their dental practice offer a full array of services including general dentistry, family dentistry, cosmetic dentistry and restorative dentistry for patients of all ages. If you would like to get more information about Rowe Family Dental Care or the services they provide, please click on their website at http://www.rowefamilydentalcare.com.