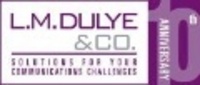 ... not by hitting a 'send' button
WARWICK, N.Y. (PRWEB) February 5, 2008
While businesses understandably depend upon technological aids like e-mail, Dulye maintains that the single greatest tool for effective 2-Way communications within a company is the human factor. "People want information from other people," she explains. "When information is delivered to employees from a leader, face to face, without technical shortcuts, something happens: It builds relationships. It creates a sense of relevancy. It empowers workers with information that drives purpose. It leads to a Spectator-free Workforce."
Dulye, expert and sought-after speaker on employee engagement, has provided similarly potent keys to improved communications to Fortune 500 clients and other businesses, targeting specific actions for effective dialogue between management/leadership and employees.
Results are found in the numbers. Client Rolls Royce-Engine Services-Oakland tracked a 19 percent improvement in annual operating profit after Dulye and team helped implement employee-driven communication teams and conducted leadership training.
"An organization's success hinges on collective actions of all employees," says Dulye. "Often, employees do not realize that they have a responsibility to have a voice in the workplace. Our goal is to help organizations build processes that inform employees -- through clear, timely messages -- and to engage employees by listening to their ideas... encouraging their active involvement in key programs. In other words, a Spectator-free Workplace."
The most expedient route? The human dynamic. "L.M. Dulye & Co. research shows that a company will get results faster by face-to-face interaction," reprises Dulye, "... not by hitting a 'send' button," "Spectator-free Workplace" is a cornerstone of Dulye's approach which includes 2-Way communication programs, leadership training/skills development, employee engagement and ongoing measurement.
The company's 10th anniversary celebration includes an innovative Dulye Learning Experience weekend being offered without charge to selected students at Syracuse University. Dulye and a team of experts will facilitate a variety of off-campus seminars to help participants effectively move into the professional world.
L.M. Dulye & Company is a leading change management consultancy comprised of strategic consultants and process experts providing practical, results-driven solutions for leading organizations.