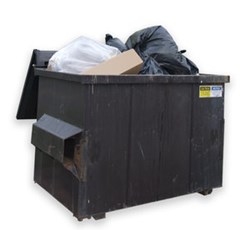 The new record quotes are part of a series of new development that has helped the Dumpster Rental Quotes company to expand.
New York, New York (PRWEB) November 07, 2012
Dumpster rental company, DumpsterRentalQuotes.com, has received a record number of quotes from its website during the third quarter of this year. This quote record is a direct result of the new quotation system that was integrated on the DumpsterRentalQuotes.com website. Businesses and homeowners get access to helpful information that is used to speed up the process of quote delivery. The new record quotes are part of a series of new developments that have helped the Dumpster Rental Quotes company to expand its company offline and online. More information about recent developments can be found by going to this link http://www.dumpsterrentalquotes.com/new-york/dumpster-rentals-york-city-ny.
Online dumpster rental is a new service that some companies are able to provide. The most traditional way to find a quality trash container was to locate a company offline in a specific city in the United States. One disadvantage that dumpster renters can have is the fluctuations of dumpster sizing. Some companies rent strictly to commercial industries and others rent dumpsters that are useful for home improvement projects.
The Dumpster Rental Quotes company is one example of a trash removal agency that is able to rent multiple sizes of dumpsters that are available for industrial and residential use.
Taxation and additional fees are examples of the price differences that can be found when a dumpster is rented offline or online. The third party haulers that are used to drop off or pick up dumpsters from locations could have additional fees that are charged for these services.
Local, municipal or state taxation could be assessed on rented dumpsters apart from a quote that is generated from a company. The new features accessible through the DumpsterRentalQuotes.com website are now being used to give accurate rental information to those that receive quotes for dumpsters online.
A recent addition to the Dumpster Rental Quotes company has helped to improve its quotation system apart from the technological update that took place in early 2012. A new web team is responsible for responding to requests for pricing, sizing or other industry information that is useful in obtaining a rented dumpster. The addition of this website team is expected to streamline the process of quotations that come into the DumpsterRentalQuotes.com website each day.
A new toll free number at 1-800-748-9909 is now being used for business and residential customers that prefer to obtain offline quotes or other information from the Dumpster Rental Quotes company. Information about the first quarter quotes success can be found at this link http://www.prweb.com/releases/dumpster-rental-quotes/04/prweb9382246.htm.
About DumpsterRentalQuotes.com
The DumpsterRentalQuotes.com company is based in Florida and has expanded its company operations to various cities in the U.S. As trash removal experts, the Dumpster Rental Quotes company maintains one of the leading websites online to receive online quotes for roll off dumpsters, front load dumpsters, construction dumpsters and other trash containers popular for residential and commercial usage. The DumpsterRentalQuotes.com website was updated in 2012 to include new quote and cost saving features that are designed to help renters to save additional money using trash removal agencies.