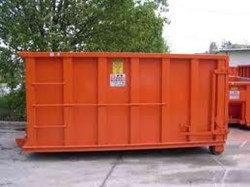 The DumpsterJacksonville.com website cuts out middlemen from the process of supplying dumpster on demand through regional offices in over 20 U.S. states.
Jacksonville, Florida (PRWEB) September 03, 2012
Dumpster rental is one thing that is a must have for businesses that dispose of large amounts of trash each day. Commercial rental companies that provide roll off dumpsters and front load dumpsters usually provide little to no rental discounts for small business owners. The website, http://www.dumpsterjacksonville.com, is now providing an easy way for small business owners to get online quotes for dumpster rental entirely online. The new and improved DumpsterJacksonville.com website is designed to help expedite dumpster rental seven days a week for businesses in the Jacksonville, FL area as well as in over 20 additional states in the U.S.
Competition by waste removal companies has increased in the past decade. As one of the last remaining private industries, the trash collection industry has multiple providers in each state. Small business owners that need trash collection and removal services whether daily or weekly can find it difficult to get affordable rates. The average corporate waste management company requires long-term contracts as a guarantee to provide continuous trash collection services.
Companies like DumpsterJacksonville.com that negotiate the lowest prices instantly through an online quote system is helping small businesses get affordable trash removal service.
Dumper rental delivery is one part of the quote process that some companies are unable to guarantee. According to estimates online, approximately 70 percent of waste management companies contract work out to local delivery companies. These third party brokerage companies handle the day-to-day delivery and pickup of roll off dumpster or dumpsters for residential use. Delays are a common side effect of using companies that outsource trash dumpster delivery.
The DumpsterJacksonville.com website cuts out middlemen from the process of supplying dumpsters on demand through regional offices in over 20 U.S. states. This is helping business and residential customers to get dumpsters faster and for cheaper prices.
Nonprofit usage of dumpsters is a growing trend as many nonprofit organizations take donations or have started community recycling programs. Storage is always an issue for nonprofits that have limited budgets to work with to provide a greater good to the community. Cities like Jacksonville, Florida have a high percentage of entrepreneurs per capita and a large percentage of these entrepreneurs own and operate nonprofit companies. The ability for a nonprofit to reduce expenses on dumpster rental in Florida cities is now possible through City Dumpster Service at http://www.dumpsterrentalquotes.com/florida/dumpster-rentals-jacksonville-fl.
About Dumpster Rental Quotes
As a leading dumpster rental company located in Jacksonville, Florida, City Dumpster Service has designed its dumpster rental quotes website to be one with cutting edge technologies. The delays and high prices frequently experienced during the dumpster rental process by businesses and residential customers are not found through City Dumpster Service. An online quote system that generates instant quotes in over 20 U.S states is provided online so that any customer can receive a quote 24/7 to speed up the process of getting dumpster rental and trash collection services.