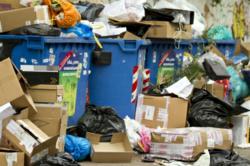 We receive phone call after phone call from business owners telling us how the speed of our quote delivery has changed the way they can do business."
New York, NY (PRWEB) April 09, 2012
The dumpster rental business is competitive just like other businesses trying to respond to the constant changes in an uncertain economy. Both residential and commercial trash collection is available in every city in the U.S. and is managed by more than one local company. City Dumpster Service has recently expanded its offerings in major cities and has upgraded its computer system to accept and generate online quotes. This 21st century upgrade allows CDS to improve the accuracy of the information and give more accurate pricing. The use of this new computerized quotation system has increased the first quarter dumpster rental quotes to the highest levels since CDS began in 2006.
Before the Internet became popular for business, a company that needed a roll off dumpster had to use a telephone directory to find a company or get a referral. Company budgets are prone to changes and trash collection schedules can be delayed due to unforeseen circumstances. Quotes that are now generated online go directly to inputted email addresses and now include more accurate information. The average quote is generated immediately after it is requested using modern quotation systems. "Our customers are thrilled to receive quotes so fast," said Kevin Miller, Customer Service Manager at CDS. "We receive phone call after phone call from business owners telling us how the speed of our quote delivery has changed the way they can do business."
An individual or company that requires dumpster rental does not have to negotiate directly with a trash collection company. The packaged solutions that are now available include insurance and one day or multiple day terms. The pick up and drop off for trash containers has also been streamlined. CDS Trash Collection Supervisor, Rick Wilson, added, "The delays that people were used to in the past are now gone thanks to the Internet. A contract is instantly generated when a quote is approved thereby eliminating slow delivery of trash containers and commercial dumpsters."
The popularity of Internet connected devices is helping industries like the trash container industry reach new clients faster. A construction company that depends on trash removal and cleaning services now has the ability to get a quote by using a mobile phone or other Internet connected device. This feature is helping some foremen and contractors spend less time on the phone getting dumpster rental quotes and more time on a job site taking care of their own businesses. Representatives from CDS have confirmed plans to continue technological upgrades after review of the second quarter results in June of this year.
About City Dumpster Service
After launch in 2006, City Dumpster Service has grown substantially each year and has improved its business dumpster rental by responding to customer needs. With recent investments in computerized quotation systems, CDS is able to offer residential and commercial customers with a faster and more economical dumpster rental quote.