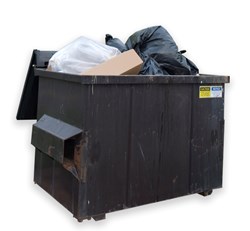 The Dumpster Rental Quotes website now has cash saving tips for companies or homeowners that rent dumpsters through third party agencies.
Flint, Michigan (PRWEB) October 13, 2012
Dumpster rental is a common business need for large and small companies. While some companies use city trash services, others seek the services of third party companies to provide varying length of dumpster service. The Dumpster Rental Quotes website now has roll off dumpsters for discount prices. This type of dumpster is one of the most popular to rent and the prices are now discounted for online rentals. More information about the new price structure and rental information can be obtained from the http://www.dumpsterrentalquotes.com website.
Dumpster sizing can be confusing to someone that has never rented a dumpster in the past. Size charts are not something that is readily available in most advertisements for dumpster rental. Correctly estimating the size required for dumpster rental can have an impact on the total cost. Dumpsters that are rented are typically priced in a specific formula that calculates the amount of cubic yards required. A 10, 20 or 30-yard cubic dumpster can be rented at different prices.
The DumpsterRentalQuotes.com website has updated its dumpster listings to help make it simpler for those that rent dumpsters online to estimate the proper size needed.
Not all companies that are intermediaries between haulers and customers release trash removal restriction information. In many cities in the U.S., there are regulations against throwing away certain types of material not in approved containers. Certain dumpsters are required for concrete and other asphalt type materials due to size and weight limitations.
Companies that dispose of wood pulp, potentially hazardous chemicals and construction debris could pay additional fees to local haulers or landfill agencies. The Dumpster Rental Quotes company includes information about specific cities to help those renting a dumpster to plan for additional expenses that might be incurred above the standard rental fees.
One area that few companies provide information for during a dumpster quote is the local pickup and drop off fees. Since some companies work like brokers, the local haulers that perform the actual pickup and delivery could raise the fees if rental periods are extended or multiple pickups are required.
The Dumpster Rental Quotes website now has cash saving tips for companies or homeowners that rent dumpsters through third party agencies to be aware of potentially paying excess pickup and drop off fees. Hauler fees are generally separate and could quickly balloon the cost for renting a roll off dumpster or other dumpster online or offline.
About Dumpster Rental Quotes
The Dumpster Rental Quotes website is one location online that businesses and homeowners can use to find affordable dumpster rental. Since the pricing between companies can vary, the Dumpster Rental Quotes company ensures that all pricing is accurate at all times. A database system is used to track historic and current pricing. This system keeps the costs up-to-date for online quotes. A team of expert trash removal specialists operates the Dumpster Rental Quotes website and updates it daily with information renters can use when researching the dumpster rental industry.