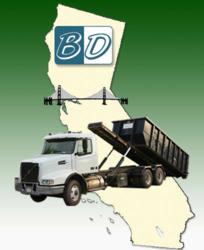 Bay Area, California (PRWEB) May 31, 2013
Budget Dumpster now provides the California Bay Area with roll off dumpster rentals. The company has positioned itself as a resource for area residents to become free of waste and as an affordable alternative to current waste removal options. Budget Dumpster is able to supply its dumpster rentals to any commercial or residential location in the Bay Area.
Budget Dumpster currently offers trash disposal services throughout the entire nation and in over 35 states. The recent expansion into the Bay Area will allow the residents of San Francisco, San Jose, Fresno, Sacramento and Oakland to take advantage of the opportunity to become free of waste. Budget Dumpster will also provide service to the smaller suburbs and communities within the Bay Area.
The Bay Area has always been a location that Budget Dumpster has planned on expanding its operation. Dumpster rentals in Greater Sacramento have been used to maintain superior quality of life. This area has gained a reputation of utilizing the most advanced waste removal methods to ensure environmental safety. Budget Dumpster shares the same ideals of Bay Area residents and puts a huge emphasis on proper waste removal. It was only a matter of time before Budget Dumpster teamed up with the residents of the area to properly removal waste from the businesses and households in the area. The Bay Area has already positioned waste removal as an essential part and Budget Dumpster wants to help continue in the current success.
This company's recent expansion to the Bay Area is apart of the overall goal to provide the United States with affordable and effective waste removal services. Budget Dumpster makes every extra effort to keep our prices at the lowest possible rate to allow everyone to access proper waste removal. In order to provide the best waste removal service, Budget Dumpster has assembled the premier dumpster rental staff in the business. Extensive knowledge of the waste removal industry is evenly spread throughout every facet of the Budget Dumpster team. The customer service department handles all the calls and can take care of everything via telephone. On daily basis, these customer service representatives set up customers with the appropriate size roll off dumpster rentals.
Budget Dumpster supplies greater San Jose roll off dumpster rentals. These large waste containers are transported on specialized trucks, which allow the dumpster to be properly positioned at any location. The rentals are available in a variety of sizes between 10 and 40 cubic yards. These dumpsters can help accomplish any possible waste removal project, regardless of waste amount. Budget Dumpster does not limit how many dumpsters a customer can rent a single time and offers empty and return services. All of the dumpsters are easy to load and come standard with a doorway to walk or roll in waste.
Budget Dumpster will be utilizing the variety of waste processing facilities in the Bay Area and adheres to its own high standards for environmental safety. The company is able to meet all the specific needs of its customers and not commit any further harm to the environment. Budget Dumpster's green approach to business provides many benefits and will fit in well with the current environmental mindset of the area.
About Budget Dumpster
Budget Dumpster LLC has been the affordable solution to waste since 2005. The company has been experiencing expansion and consistent growth throughout the entire United States. Although, they provide waste removal at a national scale, they still maintain focused on all the surrounding area of major metropolitan cities. Budget Dumpster has always had a desire to supply greater Fresno roll off dumpster rentals and now it is a reality. They are your solution to waste.