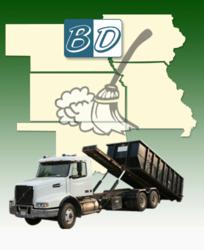 Kansas City, KS (PRWEB) June 27, 2013
Budget Dumpster, a roll-off dumpster rental service, has recently expanded its services to several major markets in the Great Plains region of the U.S. These markets include several distinct cities in five different states: Kansas City, Omaha, Oklahoma City, Wichita, Tulsa, and Des Moines. Together, these six cities form the backbone of the company's newly expanded services in the Midwestern portion of the country. These new service areas also extend past the city limits, incorporating numerous communities in the suburbs and outlying counties.
This recent expansion is part of the company's long-term growth strategy that focuses on cities with large populations, as well as underserved areas. Many of the company's current expansion targets lack strong competition in their dumpster rental markets, presenting an opportunity for the company to fill the void. The company leverages its considerably large customer base to establish its name brand in newer cities. This process takes time, but has proven successful in the company's other markets. This process will be supplemented by an aggressive advertising campaign utilizing ad space on all major search engines and local directories.
The company offers different varieties of roll off dumpsters in its new service areas in order to appeal to a broad range of customers. Its current lineup of dumpster rentals in Kansas City, for instance, includes sizes ranging from 10 cubic yards to 40. These sizes are commonly used by both property owners and general contractors, two of the largest categories of dumpster rental users. The company's Omaha dumpster rental services also include 10, 20, 30, and 40 yard sizes that can be utilized in both residential and commercial settings. The company has also made sure to provide similar sizes of dumpster rentals in the Oklahoma City area. The city currently has a number of new construction projects breaking ground in the downtown district, generating a lot of contracts for debris removal companies. It is hoped that this new surge in construction can provide the company with strong demand for its own brand of construction dumpster rentals.
The dumpsters provided by Budget Dumpster are designed to be mobile waste containers, allowing them to be dropped off at a customer's location. Each of the company's containers are transported using specialized trucks that can haul dumpsters, both filled and empty, to any nearby location. These trucks are outfitted with a hydraulics system that is connected to either a mechanical winch or arm that can lower and raise the dumpsters as needed. Many residential customers choose to keep their dumpsters in their driveway or other suitable surface on their property. The only stipulation is that chosen delivery area must be covered in pavement and have a relatively flat incline. This allows the dumpster to be properly secured and mitigates any difficulties in retrieving it.
Budget Dumpster hopes to solidify its presence in the Plains States over the next six months. During which time the company will continue to target key demographics that routinely rent dumpsters. By the end of the year, the company hopes to have established a robust customer base in the region. This will prove advantageous for the company's dumpster rental services as the busy Spring/Summer months roll around the following year. In the meantime, the company will continue seeking out new cities to roll its roll-off dumpsters into.
About Budget Dumpster
Budget Dumpster was founded in 2005 as an alternative to traditional trash disposal services. The company currently services over 2,000 locations spread across 35 states, with more service areas added every week. The company's long-term goals include expanding its dumpster rental services to all 50 states, as well as adding additional services to the areas where it currently operates.