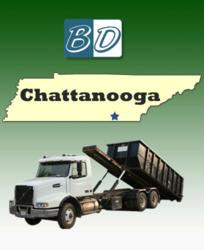 Chattanooga, Tennessee (PRWEB) April 30, 2013
Budget Dumpster now provides roll off dumpsters rentals to Chattanooga, TN. The company has positioned itself as the affordable alternative to the waste removal options for commercial and residential locations in the Chattanooga area.
Budget Dumpster currently offers trash disposal throughout the entire nation and will continue its effective service to Chattanooga and the various suburbs in Hamilton County. The company can supply its dumpster rentals to the primary suburbs such as Apison, Collegedale and East Ridge, TN as well as the smaller surrounding cities in the area. Budget Dumpster will also offer service to cities in northern Georgia and plans to continue expanding its service area.
The City of Chattanooga's consistent economic development has provided an ideal opportunity for Budget Dumpster to begin serving roll off dumpster rentals. Budget Dumpster has already been supplying efficient waste removal to the other major cities within Tennessee and it was the natural transition to begin serving Tennessee's 4th largest city. The Scenic City has potential waste removal needs of its residents, who have experienced rapid population growth. Budget Dumpster also plans to help the local economy as Chattanooga and the surrounding suburbs are taking part in major manufacturing and construction.
The company's recent expansion to Chattanooga is a part of its goal to provide affordable and competitive waste removal throughout all of the United States. The company makes every effort to keep its prices low, so that everyone can have the opportunity to take advantage of proper waste removal. Budget Dumpster has assembled a team that has extensive industry expertise that has been acquired through first-hand experience with every type of dumpster rental situation. This expert knowledge is evenly spread throughout Budget Dumpster and is evident with our effective service. The company's customer service representatives handle all orders via telephone and can match customer's with a roll off dumpster that will meet all the specific needs of their waste removal project.
Budget Dumpster enables complete waste removal by providing roll of dumpsters to its customers. These are large waste containers that are transported on specialized trucks, which allow the dumpster to be easily positioned at any location. These dumpster rentals are available in variety of sizes between 10 and 40 cubic yards. This allows Budget Dumpster to be able to accommodate any possible waste removal project. The company does not limit how many dumpster rentals can be acquired at a single time and offers empty and return services. These roll off dumpsters are very easy to fill and come standard with a doorway to walk or roll in waste.
Budget Dumpster takes advantage of a variety of waste processing facilities in the Chattanooga area and adheres to its own high standards for environmental safety. The company has developed a dumpster rental process that can meet all of its customer's needs and not commit any further harm to our environment. Our green approach to business has provided many benefits and plans to continue this successful trend inside the Chattanooga city limits.
About Budget Dumpster
Budget Dumpster LLC has been the affordable waste removal solution since 2005. The company has set up operation in 35 states and plans to continue its expansion until everyone in the United States can utilize our incredible services. Budget Dumpster may be experiencing constant growth but also remains focused on maintaining its current areas of service by providing the most affordable waste removal option.