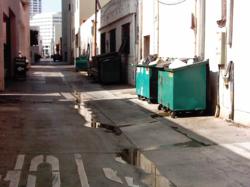 We receive a lot of calls from homeowners that have dirt, debris, rocks and tree roots that need to be removed from properties.
Seattle, WA (PRWEB) June 01, 2012
Dumpster rental is not something that is talked about at the dinner table, but it is something that many people require on a daily basis. Both businesses and individuals rely on trash management services that are provided by third party companies. One problem with dumpster rentals is the human processing time that is required when a dumpster is quoted, rented and shipped. City Dumpster Service, http://www.dumpsterrentalquotes.com, is now eliminating the traditional waiting period for roll off dumpster rental in every U.S. state that it services. This change will speed up the processing time and allow same-day container delivery to help businesses reduce operating budgets for cleaning and waste removal services.
Pool installation is one of the things that homeowners can often request to upgrade the value of their property. A proper pool installation could add thousands of dollars in appreciation to a home and the typical season to complete these home renovations is the spring and summer. Most consumers find that purchasing a pool installation package is easy, but finding a way to clean up the mess can be more difficult. "We receive a lot of calls from homeowners that have dirt, debris, rocks and tree roots that need to be removed from properties," said Mike Rhodes, Quote Response Director at City Dumpster Service. "Not every pool installation company that is contracted includes the price of clean up in the total bill," added Rhodes. Consumers that need a roll off dumpster to remove pool installation remnants can now benefit from the same-day container offerings by City Dumpster Service.
A small business that operates from one location does not face the same challenges that a business with multiple locations faces. The timely clean up of trash leftover from construction projects, renovations, landscaping and excavation can pose a challenge for companies with offices in different locations. One delay in the container or roll off dumpster rental process could cost a company thousands of dollars in clean up expenses. The ability to have dumpsters quoted and delivered on the same day can help reduce multi location clean up costs.  Companies like City Dumpster Service that are able to offer these immediate services to businesses and individuals could find that the revenues for spring and summer clean up reach record highs. 
About City Dumpster Service
Traditional waste removal is now a thing of the past for City Dumpster Service. A 21st century website and an online quote platform have taken this company from humble beginnings in the early 2000s to one of the leading dumpster rental companies in the U.S. in 2012. A complete staff of dedicated trash removal specialists own and operate City Dumpster Service and handle all quotes and deliveries in house. The rental, drop off and pick up of roll off dumpsters and other trash containers has been streamlined by City Dumpster Services to provide expert services to every business and residential client right from http://www.dumpsterrentalquotes.com.