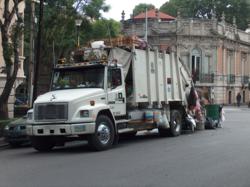 A powerful database is linked to waste management companies around the U.S. and quotes are delivered quickly through a simple online form.
Cherry Hill, New Jersey (PRWEB) May 11, 2012
Dumpster rental company, City Dumpster Service, is now offering roll off dumpsters and front load dumpster rentals to residents of New Jersey, Georgia and Florida. This expansion is due in part to the nationwide quote system available from City Dumpster Service at http://www.dumpsterrentalquotes.com. Obtaining a price quote is now faster and easier due to the elimination of centralized call center operations. Helpful customer service agents can now deliver online quotes to companies or individuals in 20 U.S. states without delay. This new access to clean up services from this nationwide dumpster rental company is designed for customers to receive dumpsters faster to meet construction deadlines and eliminate third party conflicts with waste management companies.
Information is one of many factors that can help to make dumpster rentals as stress-free as possible. Unlike standard service businesses like plumbing or dentistry, the waste management industry is private and not much information is available to the public. The average person can have difficulty knowing the difference between a residential dumpster, front load dumpster or roll off dumpster. The time that it takes to research the differences in each of these dumpster types combined with long negotiations with trash collection companies can elongate the dumpster quotation process. The new expedited service from City Dumpster Service is powered by its state of the art website. A powerful database is linked to waste management companies around the U.S. and quotes are delivered quickly through a simple online form. 
Construction clean up and severe weather clean up are often the reason that larger dumpsters are required. Coastal cities in Florida that are preparing right now for the upcoming hurricane season can prepare contingency budgets with updated roll off dumpster pricing. The actual rental prices of dumpsters often stay the same, but fuel costs and delivery fees can vary between waste management companies. The ability to save companies time by giving out instant quotes was the reasoning behind the recent City Dumpster Service expansion. "We tested our quote system in Florida, Georgia and New Jersey," said Mitch Johnson, Database Administrator for the http://www.dumpsterrentalquotes.com website. "We received an overwhelming response and the feedback offered by individuals and business owners was invaluable to our final design," added Johnson. Obtaining a dumpster rental quote online is expected by some to become a competitive industry in the next 2 years as mobile and Internet technologies slowly decrease the dependence on telephone interaction with waste management representatives.
About City Dumpster Service
Over 20 U.S. states currently receive dumpster rentals from City Dumpster Service and new partnerships are currently being created for launch in 2012. As waste management specialists, this local dumpster rental company works with individuals and businesses around the country to help make renting roll off and front load dumpsters fast and easy. A helpful and trained support staff and expert haulers are combined to give the ultimate in dumpster rental services without the need for third party waste management company negotiations.