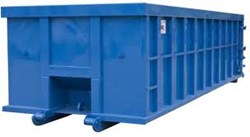 The City Dumpster Service has expanded its South Carolina dumpster rental business.
Columbia, South Carolina (PRWEB) October 02, 2012
Dumpster rentals in Columbia, SC should be much easier for homeowners and business owners thanks to one dumpster rental website. The City Dumpster Service has now made it possible for rental quotes to be obtained online through its website. Technological improvements have been made to help streamline the rental process and eliminate many of the delays that can be common renting from offline dumpster rental agencies. The City Dumpster Service company has expanded its services in the Eastern U.S. and is prepared to serve local businesses and homeowners. More information about the new online quote system can be obtained from this link http://www.dumpsterrentalquotes.com/south-carolina/dumpster-rentals-columbia-sc.
The dumpster industry might not make headlines around the world, but many of the regional companies that control trash pickup and delivery are silent heroes. The daily removal of trash in a residential and commercial setting is important for the environment and local health ordinances. While dumpster rental is essential to the general public, companies and homeowners can experience frequent issues renting dumpsters. The traditional paper processing delays, incorrect size measurements and problematic delivery for last minute usage is unfortunately common.
The City Dumpster Service has expanded its South Carolina dumpster rental business and works closely with businesses and homeowners to offer an error-free dumpster solution.
New home construction has increased annually over the past two years according to national reports. One of the largest contributors to landfill pileup is the construction industry. Materials that cannot be recycled must be disposed of in specific containers that are large enough to handle oversized debris. Contracting companies, roofers, construction companies and others that require roll off or front load dumpsters now have the option of getting a quote online.
Pricing accuracy is essential to any quote and the easy pricing guide located on the City Dumpster Service website is designed for errorless usage.
The size of a dumpster is often dependent on the type of use. Unlike the car rental industry, there is currently no one-size solution for dumpsters due to the various uses of these containers. The simple formula of multiplying the square yards of a container might not be enough for someone estimating the required size of a front load or roll off dumpster.
One addition to the City Dumpster Service website includes a simple to understand size chart that makes it faster for businesses and homeowners to locate the correct size of a dumpster for the right trash removal scenario.
About City Dumpster Service
Access to large, medium and small dumpsters is what the City Dumpster Service offers at the most basic level. While some dumpster rental agencies outsource most of the daily responsibilities, the City Dumpster Service has a trained team of trash removal experts that work one-on-one with homeowners and business owners to provide accurate rental information. A recent upgrade to the City Dumpster Service website included new partnerships around the U.S. that now help this trash removal agency to expand its operations into over 22 states. A new computer quote system is helping the DumpsterRentalQuotes.com website to generate online quotations for all dumpster requests.