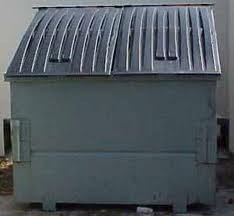 The no contract basis that DumpsterRentalQuotes.com provides its customers is just one way that it is helping small business owners.
Dallas, Texas (PRWEB) September 11, 2012
Dumpster rentals in Dallas, TX will soon be cheaper for small business owners thanks to DumpsterRentalQuotes.com. This expert waste removal company has lowered its prices for roll off dumpsters, construction dumpsters and front load dumpsters in an effort to help businesses to save more money on trash removal services. The Dumpster Rental Quotes company is a subsidiary of City Dumpster Service and this business friendly corporation now has regional offices in 20 U.S. states. The lower price is now in effect for Dallas business owners to take advantage of and more information about pickup times, pricing or online quotes can be obtained from the following link http://www.dumpsterrentalquotes.com/texas/dumpster-rentals-dallas-tx.
The waste management industry is a billion dollar business in the U.S. although much of the attention in the economy is focused on stagnant job growth. Cities like Dallas and Houston are major epicenters for small businesses and entrepreneurs. The daily trash collection routes that are offered in these cities might not be appropriate for special events or short term needs for trash removal.
The no contract basis that DumpsterRentalQuotes.com provides its customers is just one way that it is helping small business owners and entrepreneurs in Texas to reduce the cost of running an offline business. Industries like restaurants and manufacturing are two industries with a high demand for specialized dumpster rental.
The traditional way to receive dumpster quotes involved doing a lot of research on the part of a business owner before making contact for a quote. The quoting process could be completed by fax or by telephone. Companies that had immediate needs for dumpster rental were at a disadvantage due to the human processing element. The 21st century technology that is now available has helped to streamline the dumpster rental quotes industry.
Quotes can be generated instantly in most cases and there is no longer a wait to receive dumpster delivery. These are the technologies that are now used on the Dumpster Rental Quotes website to eliminate the traditional delays and problems with renting dumpsters for trash collection and removal.
The amount of contractors that perform home improvement services in the state of Texas grows annually. These are some of the fastest rising small businesses that have been acknowledged by the Small Business Administration. The DumpsterRentalQuotes.com website now works closely with contracting companies to offer same day delivery and pickup of construction dumpsters, roll off and front load dumpsters that are used in the course of daily contracting work.
Small business owners that are interested in receiving a fast dumpster rental quote online for trash removal in any industry can contact Dumpster Rental Quotes directly at http://www.dumpsterrentalquotes.com.
About Dumpster Rental Quotes
City Dumpster Services owns and operates the Dumpster Rental Quotes website and has invested heavily into making it a leading source of dumpster rental information online. Over 20 U.S. states are able to receive instant dumpster rental quotes and helpful information to make waste removal a reality at a low cost. A team of experts and a toll free help line are just two of the things that the Dumpster Rental Quotes website offers to homeowners and business owners interested in saving money on roll off dumpster or front load dumpster rental.