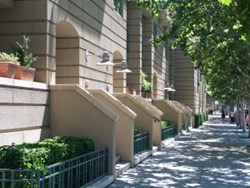 The DumpsterRentalQuotes.com company has made the required negotiations with hauler companies to provide more flexibility for renters in many California cities.
San Jose, California (PRWEB) October 28, 2012
Renting dumpsters in Santa Clara County will now be faster and easier for homeowners and business owners. The Dumpster Rental Quotes company has expanded its local hauler network to include more delivery and pickup haulers. This effort is designed to expedite obtaining a dumpster for business or residential use in San Jose or surrounding counties. The costs for this expansion have been negotiated in advanced by the Dumpster Rental Quotes company and new lower dumpster rentals pricing is now available. More information about this new service can be found by following this link http://www.dumpsterrentalquotes.com/california/dumpster-rentals-san-jose-ca.
Third party haulers are often required in the dumpster rental business due to the ownership of the actual trash containers. Many of these are leased on contract to businesses or homeowners for short periods of time. Since few rental agencies own dumpsters outright, these haulers are required to handle the delivery and pickup requests for the containers that are requested.
The DumpsterRentalQuotes.com company has made the required negotiations with hauler companies to provide more flexibility for renters in many California cities. These negotiations help to provide trash containers faster as well as reveal up to date terms regarding additional rental fees.
Homeowner renovations and yard cleanup still remain popular in the spring, summer and fall months of the year. The various dumpster sizes that are available provide the temporary storage required when removing large sections of debris or construction waste. Since dumpsters are priced differently, knowing the calculations of a dumpster in advance is what helps to decrease the cost of the total rental fee that is paid.
The Dumpster Rental Quotes company now provides access to its easy sizing guide online. This can help homeowners to calculate the approximate size required to remove trash without paying for additional rental time or pickup fees.
Companies typically rely on city dumpster services for daily or weekly removal of trash. This service traditionally requires bi-annual or annual contracts. Special events, fundraisers and other gatherings usually increase the amount of trash accumulation.
As an alternative to city trash collection services, the DumpsterRentalQuotes.com company now offers shorter rental periods for companies that have immediate trash removal needs or during occasions that require extra storage for trash. This new service can be used by small or large companies in the San Jose, CA area.
Apart from recent company updrdes, the Dumpster Rental Quotes company now has a new toll free phone number that is used to generate pricing information quickly. This number is in addition to the company website that delivers cost saving information and frequently asked questions about the dumpster rental industry.
A team of professional staff now take all calls that are placed to this new toll free number and generate answers to questions or instant price quotes for residential or commercial dumpster rentals throughout San Jose.
About Dumpster Rental Quotes
The Dumpster Rental Quotes company has grown online since 2009. By expanding into more U.S. states, the trash removal company is now able to reach more business owners and homeowners that require dumpster rental on a routine basis. The technological upgrades that have taken place at the main offices of the Dumpster Rental Quotes company now make it possible for streamlined dumpster rentals. Helpful information is now added direct onto the DumpsterRentalQuotes.com website daily to help aid renters in the decision making process when any size dumpster is required for trash removal.