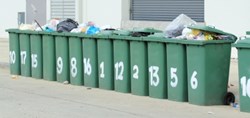 A new money saving tips section has been added to the Dumpster Rental Quotes website.
San Francisco, California (PRWEB) December 01, 2012
DumpsterRentalQuotes.com has announced a special pricing incentive for the holiday season. All online and telephone quotes that are generated by this dumpster rentals agency are now discounted in price for the holidays. This new pricing measure is designed to lower the rates offered to commercial and residential dumpster rental customers. Those searching for dumpster rental pricing for various dumpster types can receive more information at http://www.dumpsterrentalquotes.com.
The dumpster industry has grown since the early days of trash removal in major cities. The industry has become privatized in many locations and large corporations often control the decisions made for trash collection.
The Dumpster Rental Quotes company is offering customers an alternative to obtaining an approved trash container without requiring long-term contracts.
The hauler pricing that is now offered through the DumpsterRentalQuotes.com website comes from direct negotiations with haulers in different cities. More than 20 states in the United States are serviced by this expert trash removal agency to help homeowners and business owners obtain the right size dumpster to remove accumulated trash or debris.
One of the changes that has taken place at the Dumpster Rental Quotes company is the addition of more website content related to the trash industry. Brand new pages have been added for individual cities that are used to help educate renters searching for the right dumpster size online. These new pages are added continuously as new information is obtained.
City ordinances can make it difficult to obtain a dumpster without paying additional fees. These fees are rarely explained in the average dumpster rental quote generated online or offline. These additional fees are assessed for a variety of reasons and most renters are unaware of the fees that can be charged.
The DumpsterRentalQuotes.com company is offering more detailed information about the types of fees that could be charged for the rental of a dumpster. Price increases like additional rental days, taxes, fuel surcharges and extra delivery fees could inflate the price of a dumpster rental quote.
A new money saving tips section has been added to the Dumpster Rental Quotes website at this link http://www.dumpsterrentalquotes.com/dumpster-rentals to help those not renting through this company to help reduce the price for a third party rental.
The new holiday price reduction announced by the Dumpster Rental Quotes company is now in effect for online and offline quotes. A trained and helpful staff member of this dumpster agency personally assists each customer that requires a quotation instead of a call center staff.
About Dumpster Rental Quotes
The Dumpster Rental Quotes company launched online in 2009 and has helped to provide affordable rental pricing to homeowners and businesses for over 3 years. As an offline company, more than 20 years of combined experience is offered by the experts that own and operate this Florida based rental agency. The Dumpster Rental Quotes company routintely updates its company offerings and has expanded its services into multiple U.S. states. From roll off dumpsters to front load dumpsters. the Dumpster Rental Quotes company provides immediate price quotations and delivery.