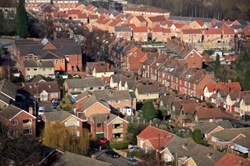 The City Dumpster Service website is helping to remove the issues that some people have when inquiring about prices for a dumpster.
San Francisco, CA (PRWEB) January 01, 2013
The City Dumpster Service has expanded its operations throughout this year and is now operating in over 22 U.S. states. This company is expanding its homeowner services for dumpster rentals. Starting in 2013, homeowners that require dumpster rentals in these expanded states can now rent a dumpster online. This new service is expected to provide faster dumpster delivery for a variety of homeowner uses.
The removal of certain types of debris is usually prohibited by local trash collection agencies. Approved trash containers are generally used for daily accumulation of trash and are not meant for use with property cleanup.
Homeowners that complete home renovations or property upgrades often require a reliable way to remove unusable materials. The new rental services offered online are now provided as one alternative that can be used for trash removal.
Price calculations are one of the elements that are considered when someone rents a dumpster. One issue that renters are confronted with is the varying of pricing in the industry. There is currently no benchmark for pricing due to the privatization of trash companies. Each company basis pricing off of customer requirements, distance and number of pickups that are required.
The City Dumpster Service website is helping to remove the issues that some people have when inquiring about prices for a dumpster. This company now offers more detailed price quotations that are applicable to all home and business owners. These quotes now detail the amount of rental, extra charges, pickup and drop off fees and other charges that can inflate the cost. This new service is designed to educate renters before payment is made.
Apart from the new quote features, more pages have been added to the company website. These include frequently asked questions, money saving tips and city specific data. These new pages are part of the upgrades that have taken place this year that are designed for integration in the New Year. Renters that plan to rent or plan to rent a dumpster elsewhere can now access this information online.
About City Dumpster Service
The City Dumpster Service launched its website online in 2009 and has made regular contributions to this resource to help those that rent commercial and residential dumpsters. The company upgrades and expansions into different U.S. states has helped this company to provide more opportunities for cost effective trash removal. The City Dumpster Service is staffed by a group of experts with decades of experience in the trash industry. Through innovation and constant expansion, this company has increased its operational efforts and annual profits.