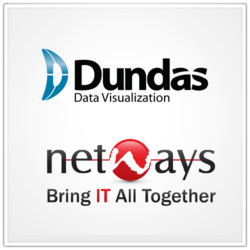 "With Dundas visualizations and dashboards, our customers can achieve effective decisions by better understanding their data", Jean Moussa, Regional Manager at Netways
Toronto, ON (PRWEB) November 06, 2012
Being a top regional provider of consultancy and IT enterprise solutions, including Business Intelligence and Data Warehouse solutions, Netways will offer local support to a worldwide client base using Dundas technology to assist enterprises in creating dashboards and other useful visualization. The partnership between Dundas and Netways will provide Dundas with a larger foothold in the Middle Eastern market, where the majority of Netways clients reside, and will strengthen Netways with a market differentiator in the region.
Dundas and Netways partnership will create an unbeatable offering combining the right technologies and market expertise that will provide Netways' customers with strong business intelligence visualizations tools and dashboards for better decision making. With this new partnership, both Dundas and Netways will collaborate to expand their reach and provide the best possible service in the market using high class visualizations and dashboards.
"Dundas is very excited by this new partnership and the opportunities that will rise from this collaboration", said Scott Benzie, Sales Director at Dundas. He further added: "Our understanding of data visualizations combined with Netways' ability to connect millions of people through technology should be beneficial to all parties involved".
Commenting on this partnership, Jean Moussa, Regional Manager at Netways added: "This strategic partnership with Dundas demonstrates Netways commitment to deliver value-added services to its customers while providing them with an end-to-end enterprise solution that will empower executives and decision makers with comprehensive and meaningful dashboards. With Dundas visualizations and dashboards, our customers can achieve effective decisions by better understanding their data".
About Netways
Netways delivers consultancy and high-quality business technology solutions to government and organizations in multiple industries for more than 15 years. We Bring IT All Together by providing solutions that enable your enterprise to connect People and Technology through Processes in order to gain Insights into your business for better decision making. Our offerings will help improve business productivity and collaboration.
Netways serves more than 2,500 customers through its worldwide locations. Our offices in the Middle East and Gulf region are located in Lebanon, Jordan, Saudi Arabia (Riyadh, Jeddah and Khobar), UAE, Bahrain and Qatar. Netways is a Microsoft Gold Certified Partner and has earned Microsoft Competencies in Communications, Content Management, Enterprise Resource Planning, Portals and Collaboration, Business Intelligence, Customer Relationship Management, Application Integration, Hosting, Learning, Messaging, Server Platform as well as Management and Virtualization.
For more details please visit: http://www.netways.com
About Dundas
Founded in 1992 in Toronto, Ontario, Dundas Data Visualization has been an industry leader in innovative technologies for years. With over 20 years of experience, Dundas is focused on creating smart, fact-based data visualizations that are accessible at all levels of your organization. Currently on Version 4, Dundas has continued to stay ahead of the pack in data visualization by adding innovative features and improved functionality with each release. Dundas Data Visualization has been a proud recipient of Microsoft's TechEd Award, Software Magazine's Software 500, the Branham 300 Award and the SD Times 100, among others.
Dundas Connect offers a partner program that provides companies with the opportunity to strengthen business and gain new revenue opportunities with our unique technology. The Connect program is for software resellers and solution providers of all sorts who are looking to provide unique, flexible technology that expands and improves their portfolio of products. The Connect Partner Program engagement options include Value Added Reseller, OEM, SaaS and Referral partnerships.
For more information visit http://www.dundas.com