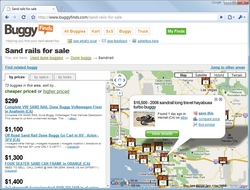 Flagstaff, AZ (PRWEB) September 29, 2009
What started as an effort to help friends save time and find deals has developed into a new website for anyone searching for a dune buggy for sale. Buggy Finds does the hard work of finding and displaying almost every used dune buggy, sand rail or side-by-side on the internet, along with helpful tools to compare and shop for the perfect buggy.
As the percentage of used vehicles in the market goes up, combined with an increasing number of places that people post their listings (e.g. Craigslist, Kijiji, Facebook Marketplace, MySpace Classifieds), Buggy Finds was inspired by several real estate websites to build something similar for those looking for used recreational vehicles.
The developers of Buggy Finds are hoping to fill the void between generic classified sites that can be difficult to search and offroad-specific sites that, despite a better focus and design, have very few active listings to work from. The search technology continues to improve, resulting in a real alternative to other industry sites that consist of little more than dealer inventory and lots of obtrusive ads.
Whether actively shopping for a sand rail for sale or just dreaming about a new buggy, the whole purpose for the site was to make the process easy and fun. The entire interface is built around interactive maps that automatically display listings from multiple sources. Visitors are not required to fill out long forms or even know ahead of time exactly what they are looking for. They can simply browse, sort and filter as much as they wish without having to navigate to multiple pages.
At the same time, the system includes several smart and powerful features behind the scenes. Constant indexing of the web brings in hundreds of new listings throughout the day while real-time price comparison charts remove guesswork in knowing how much to pay for vehicles. Algorithms to filter duplicate, spam or dealer listings along with intelligent extraction of attributes like model year, mileage and color are other examples.
Whether someone is looking for a used side-by-side, golf cart, utility vehicle or dune buggy, the site has proven addictive to early users.
###