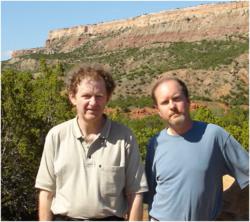 Not only is SISTERHOOD an epic story, it has great relevance to current events.
Colorado Springs, Colorado (PRWEB) December 29, 2011
International bestselling authors Brian Herbert and Kevin J. Anderson are releasing Sisterhood of Dune, their first new installment in the popular Dune series in two-and-a-half years. Fans are eagerly anticipating the two-pronged nationwide book-signing tour the authors will launch on January 3, the same day the book will be released. The authors will do two separate tours, with Brian Herbert taking a west coast route, while Anderson concentrates on the midwest and the south, for a total of 17 cities. See Full Tour Schedule.
Frank Herbert's novel DUNE is the best-selling science fiction novel of all time, and is widely considered science fiction's equivalent to The Lord of the Rings. Herbert wrote six sequel novels before his death in 1986. However, he left outlines and thousands of pages of notes, which son Brian Herbert along with bestselling author Kevin J. Anderson have used to continue the series. Each of their previous Dune novels has been an international bestseller.
Their newest novel, Sisterhood of Dune (Tor Books, January 2012) goes into the deep past of the Dune universe, revealing the origin of the Bene Gesserit Sisterhood, one of the most mysterious and provocative groups in the series. Readers will find familiar names such as Atreides, Harkonnen, and Corrino, and see major new conflicts, particularly against the Butlerians, a fanatical anti-technology group that threatens to throw the galactic empire back to the dark ages. Anderson says, "Not only is SISTERHOOD an epic story, it has great relevance to current events. The story is a clash between intellectuals and fanatics, reason vs faith, with both sides going to extremes. I'm sorry to say we see a lot of the same thing going on in real life." Watch the new book trailer for Sisterhood of Dune.
The two coauthors have worked together for more than fourteen years and are generally regarded as the most successful collaborative team in the history of science fiction.
Brian Herbert and Kevin J. Anderson launch their 17-city US tour on January 3, the date of the novel's release. The two will take two separate tracks around the country, with Brian concentrating on the West Coast, and Kevin appearing in the Midwest and the South. Full Tour Schedule.
Dune has previously been made into a popular feature film (1984), directed by David Lynch and starring Kyle MacLachlan and Sting. The Sci-Fi Channel also produced a six-hour miniseries of Dune starring William Hurt and a four-hour miniseries of Children of Dune starring James MacAvoy and Susan Sarandon.
Brian Herbert is the son of Frank Herbert and author of critically acclaimed novels in his own right, such as Sudanna, Sudanna and the Timeweb Chronicles. Kevin J. Anderson has published over a hundred novels, including major bestsellers written for Star Wars, X-Files, Batman, Superman, numerous film tie-ins and comics, as well as his own popular Saga of Seven Suns and Terra Incognita series.
For interviews or review copies, contact Aisha Cloud, Tor Publicity, Aisha.Cloud(at)tor(dot)com 646-307-5408
###