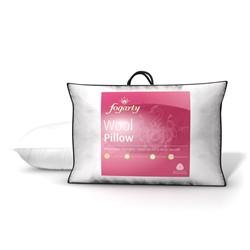 Different sleeping positions require different levels of support from a pillow in terms of shape, height and pillow filling.
(PRWEB UK) 5 February 2013
Pillow Talk
When it comes to pillows, it is not a case of one type fits all. Different sleeping positions require different levels of support from a pillow in terms of shape, height and pillow filling which many might find tricky to understand. Fortunate then, that Dunelm, the UK's number one homewares specialist, has taken a fresh new look at this common problem and provided key advice on what to look out for when purchasing a new pillow, to ensure their customers sleep peacefully every night. The full range of pillows that http:// Dunelm offers is available online. This new advice is intended to help narrow down this incredible array of options and make the right choice.
Sleeping Style
Before making a pillow purchase, it's important to think about sleeping position. Ultimately, the goal of using a pillow is to help keep the head in a comfortable neutral position, and fully supported without it leaning back too far or being too upright.
Sleep on your...

...side? Medium to firm pillows offer more support to keep the spine aligned
...back? Choose a soft to medium pillow to support the shoulders
...front? Opt for a soft pillow to reduce neck strain
Body frame is a crucial factor
It is also important to take body frame into account. If the sleeper has broad shoulders and sleeps on their side, a firm pillow is required that can maintain its shape to support the spine. Alternatively, for a small frame then a soft to medium pillow will suffice.
The Filling
The next consideration is the choice of filling. Today there is a number of varieties to choose from with natural fibres, such as Duck or Goose feather and down, Duck or Goose Down, along with synthetic fillings.
Natural pillow filling offers that little bit of luxury. In addition to comfort, these fillings are light, long lasting and allow skin to breathe.
Synthetic fibres, the preferred choice of allergy sufferers, are also easy to care for, so they can be washed more regularly than natural fillings. This makes them a popular choice for children.
Comfort Zone
The popular Comfort Zone range, in both synthetic and natural fillings, offers a whole new world of cosy contentment.
Unique and stylish, the Comfort Zone synthetic pillow is filled with tiny clusters of Hollow fibre which allows the pillows to be plumped and fluffed to provide added support. It is available in Soft, Medium and Firm to help you have a wonderful night's sleep whatever your needs. For an added bit of luxury, there is also a duck feather filled Firm pillow. There is also a Comfort Zone memory foam pillow option which not only offers a luxuriously cushioned and comfortable pillow but is also praised for its neck support properties. The foam like material reacts to the body's shape and temperature and will sculpt itself perfectly around the individual, helping to create the ultimate levels of support and comfort.
Natural
Down is the platinum choice of natural fillings – light and fluffy it is collected from the breast of the bird and has natural insulating properties which trap body heat and keep you warm. Feathers offer a more cost effective option but more are needed to provide the same warmth which gives feather pillows a firmer feel. To enjoy the best of both worlds select a natural mix which combines feathers and down. Another very popular natural pillow filling is that of wool. This temperature regulating material is an ideal pillow option for all seasons. The natural wool based material will help to keep the head warm during those cold winter months and slightly cooler during the warm summer evenings.
Synthetic
Synthetic pillows are available in four different fillings all with their unique benefits; Hollowfibre – lightweight and warm, Microfibre – replicates natural goose down, Spiral Fibre - bouncy fibres which automatically plump back in to shape after use, and lastly Memory Foam. Memory Foam, created by NASA technicians, is the newest synthetic fibre and offers a host of benefits including:
Support – it moulds to the head offering excellent pressure relief and comfort for back pain sufferers
Value for money – the unique fibres outlive all other pillows offering the ultimate in quality.
Anti Allergy
This type of pillow is perfect for people who suffer from allergies or asthma. The specially designed anti allergy filling helps to prevent the number of dust mite particles that can collect in the pillow material. These pillows also offer a fluffy and plump texture helping the sleeper to drift off into a deep slumber.
Size
Conversely, the correct choice in size is extremely important. Pillows come in four sizes – First Bed, Standard, Kingsize and V Shape . For young children select First Bed, Standard and Kingsize which fit the beds they correspond to, and V Shape pillows provide comfort for sitting up in bed or can act as a nursing pillow.
Care
After selecting the right pillow type, it's important to take good care of them to make them last. Dunelm Mill advises customers that they can help to prolong the life of their pillows by following these simple steps:
Use pillow protectors. Protectors keep out dust mites and keep everything clean, dry and hygienic.
Never have a natural fibre duvet or pillow dry cleaned as the chemicals will damage the filling.
Always follow the care instructions, they can be found on a label sewn on to the seam or on the packaging.
Dry and air pillows thoroughly before putting them back on the bed.