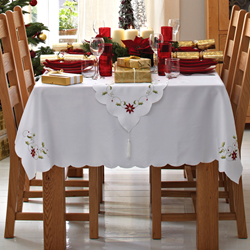 Christmas Day dinner is one of the most important aspects of the festive period.
(PRWEB UK) 17 December 2012
Step One: Invest in some extra dining room chairs
There is no denying the fact that the Christmas Day dinner is one of the most important aspects of the festive period. Since Christmas is a great time to get all the family together, there are often more mouths to feed than normal. With this in mind, it is vital that there is enough seating around the table to accommodate all of the guests. Dunelm offer a fabulous range of dining chairs such as these http://www.dunelm-mill.com/shop/furniture/sofas-and-chairs/dining-chairs/ which are the perfect addition to any dinner table.
Step Two: The tablecloth
On any other day of the year, the tablecloth used in the dining room is often of little importance. However, on Christmas Day it suddenly becomes a necessity to have the perfect festive cover for the dinner table. A great way to create the perfect Christmas inspired look is to use a full size plain table cloth on the base, such as a dark red and then opt for a festive gold or dark green table runner to really complement the overall look and create a sense of festive cheer.
Step Three: Table decorations
Christmas just wouldn't be Christmas without decorations and this includes the dinner table. The degree to which the table is decorated is totally down to personal preference but a Christmas 'must' is to have a festive centrepiece adorning the table. The addition of a floral holly based centrepiece will allow the table to be a true festive treat for all the guests.
Step Four: Cutlery and crockery
With the Christmas dinner being one of the most important meals of the year, it's the perfect time to get the best crockery out. By using your prized dinnerware collection it will add a real sense of occasion to the meal and help to make the table look like a truly luxurious setting. Why not invest in some plain white dinnerware as back up items for the big day, after all, with all that food you may find a demand for more plates and bowls.
Step Five: The Roast
Last but by no means least; the food! The turkey is the true show-piece to any Christmas dinner table. To perfect the overall look of the table why not invest in a quality carving plate and serving utensils - the perfect finishing touch to any festive table and of course, don't forget the large serving bowl for the mandatory pile of brussel sprouts. A spare gravy boat is often a great idea too especially if the turkey is a substantial size.