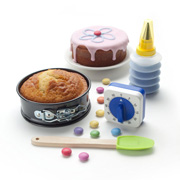 A good hearty home-made meal is one of life's great joys
(PRWEB UK) 16 October 2012
A good hearty home-made meal is one of life's great joys. However, over the past decade, the rise in popularity of fast food and the convenience of ready made meals has meant that proper home-made food has been cast astray.
This is all set to change with the British public now opting to go back to the roots of one of the most delicious aspects of our culture, authentic home-made food. From a good hearty steak and ale pie to a delicate Bakewell tart you're sure to whip up a tantalisingly tasty delight.
Why not join in the baking fun with some of Dunelm's fantastic bakeware such as these http://www.dunelm-mill.com/shop/cook/baking/ and challenge yourself to whip up a storm in the kitchen, below are some British classics to inspire! National Baking Week runs from 15th - 21st October - so get baking!
1. Apple Crumble and Custard
A simple yet delicious British pudding. This is very easy and relatively cheap to make, the only ingredients needed for the crumble are sugar, flour, butter and of course apples. The tricky bit is deciding on which dish to cook and serve the pudding. Dunelm have a fantastic range of bakeware products available – perfect for getting you back into the joys of home baking.
2. Fish and Chips
Admittedly not the healthiest of meals, but Great British food wouldn't be the same without some fish and chips. Nowadays, it is possible to buy many different styles of fryers that are safe and easy to use in the kitchen. Homemade chips and freshly battered fish are a great way to introduce your little ones to a fresh taste of one of Britain's most traditional dishes.
3. The Ultimate Sunday Lunch
The quintessentially British Sunday lunch is a tradition known throughout the world. If there is one thing you need to learn to cook – this is it! The basics of a Sunday lunch are simple; no culinary wizardry needed just sheer determination to get it all ready and served on time! The Sunday lunch requires a lot of preparation, especially when it comes to which pots and pans you will need to get everything cooked to perfection in the nick of time. This is the time to invest in some top quality baking trays, sieves, wooden spoons, bowls and of course a roasting rack for the key ingredient!
4. Victoria Sponge
The Victoria Sponge has been a popular dessert choice throughout Britain for decades. This cake is exceptionally easy to make and is based on any basic sponge recipe. The key to the success of this cake is all in the presentation. Try adding some clotted cream and vibrant mixed berries for a bright and cheerful look to your cake. To perfect the look of your sponge serve it on an elegant cake stand with a few cups of English tea.
5. Full English Breakfast
It is said that breakfast is the most important meal of the day – what better way to kick start your morning than with a full English breakfast? A vast array of meat, beans, eggs and toast you're bound to keep hunger at bay until lunch. This is one of the easiest meals to cook as you simply need to fry or grill your ingredients, the flexibility of the dish is also a great highlight to this meal as you can add or remove different ingredients or even make it vegetarian. The only equipment that you will really need is a frying pan and of course a big plate to serve it on!
Every cook has to start somewhere so give it a go, whether you're a haute cuisine chef or more of a beans on toast kind of cook, try a few British classics and you'll be half way to the perfect British meal time.