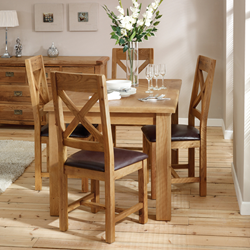 Dunelm are proud believers in the joys of baking
(PRWEB UK) 14 May 2013
Dunelm are proud believers in the joys of baking, whether you're an haute cuisine chef or merely queen of the rice crispy cakes, Dunelm have 4 great suggestions for getting you and your family enthused by the world of baking.
1. Get creative in the kitchen with the kids
Baking is a wonderful way to spend some quality time with the kids. Test out some new recipes from butterfly cakes to flapjack or even an all time British classic; the Victoria Sponge. The kids will revel in the opportunity to make a mess in the kitchen whilst allowing their creative side to shine through with some cake decoration. Invest in some children's bakeware and really let their imaginations run wild with animal shaped cookie cutters, miniature mixing bowls and spoons and even their very own little chef's apron – the perfect way to spark their love of baking!
2. Host afternoon tea with friends
Afternoon tea has made a real comeback since last year's Jubilee celebrations and a renewed love of all things quintessentially British has emerged. Whip up a few homemade scones with some deliciously thick cream and jam, get chopping up those cucumber sandwiches into delicate triangles and place artfully on a quaint cake stand. Serve with another great British classic, a cup of tea. All of these delicious little treats can then be presented on the kitchen or dining room table, simply place a beautifully designed table cloth over the top and your afternoon tea is ready. Dunelm offers a wonderful selection of dining tables such as these http://www.dunelm-mill.com/shop/furniture/tables/dining-tables/ which are ideal to present your perfect tea party.
3. Get some baking inspiration
Whether you love trawling through hundreds of cook books or have become addicted to the latest celebrity cooking show, baking inspiration is everywhere. In the spirit of World Baking Day why not put aside some time at the weekend to get inventive with a new cupcake recipe or whip up some delicious crumbly cookies, your friends and family are sure to be supportive of your new hobby if you enlist their help as official taste testers!
4. Invest in some quality kitchen essentials
A key product to invest in when looking to start your baking career is a high quality mixing bowl. Mixing bowls are available in a whole host of materials, colours and styles; however ceramic mixing bowls are often hailed as the crème de la crème. Not only do they look the part, the sturdy composition of this material makes it a reassuring addition to your kitchen essentials when whipping up a storm in the kitchen.