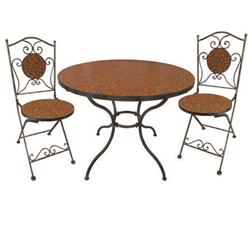 There is nothing quite like sitting outside with a big group of family and friends enjoying some rare moments of sunshine with a delicious BBQ
(PRWEB UK) 30 May 2013
The weather may not always be ideal but that shouldn't stop you enjoying the great outdoors. Dunelm suggests some top tips to make your garden a more pleasant and inviting place, come rain or shine!
1. Invest in a quality BBQ
There is nothing quite like sitting outside with a big group of family and friends enjoying some rare moments of sunshine with a delicious BBQ. We all take pleasure in the joys of barbequing, whether you get adventurous with haute cuisine salads and marinated steak or lean towards the traditional barbeque chef with mountains of sausages and burgers in a fluffy white baguette. Of course, none of this would be possible without the main article; the BBQ itself.
2. Add some sparkle with outdoor lighting
When the weather finally warms up and the sun emerges from behind the clouds, the British nation loves to spend as much time in the fresh air as possible. Investing in suitable outdoor lights is the perfect way to extend your summer evenings well into the night. Tea light lanterns make a beautiful addition to a meal outdoors, not only providing a much needed light source but also helping to create a relaxed and calming atmosphere – ideal for a romantic alfresco dinner for two.
3. Get cosy by the fire with a chiminea
No matter how much time we spend yearning for a long Mediterranean summer, the chances that the air will hold the heat once the sun has set are unlikely. Consequently, a small chiminea makes a very attractive addition to the garden when feeling the first chills of the evening drawing in. Chimineas are the ideal way to add a touch of warmth and light to an alfresco dinner party, whilst also creating an atmospheric look and rustic scent in the comfort of your own garden.
4. Add a stylish touch to your garden with outdoor furniture
Whether you opt for a simple chair and table combination or an elaborate sofa like set, outdoor furniture can really perfect the look of your garden. Investing in an outdoor table is a great idea especially if you intend to hold barbecues and social gatherings throughout the summer months. The table space will create room to proudly display an array of food whilst guests take it easy on casual outdoor seating or picnic blankets, an entirely relaxed and enjoyable afternoon for all of the family. Dunelm offers a lovely selection of garden furniture that can be seen here http://www.dunelm-mill.com/shop/garden/garden-furniture/ and is the perfect finishing touch for any garden party.