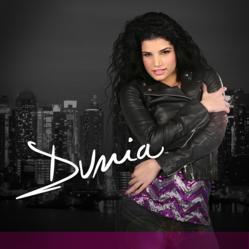 What an awesome place to be..."Lost in the Music!"
Cleveland, Ohio (PRWEB) April 17, 2013
It's over thirteen hundred miles from Dunia's hometown of Cumanayagua, Cienfuegos, Cuba to the Rock and Roll Hall of Fame City, Cleveland, Ohio. A journey from Dunia's hometown to Cleveland and on to The Big Apple, Dunia's last stop in America before returning to Cumanayagua, Cienfuegos, Cuba, is a total of over 3000 miles.
Dunia has traveled that distance and more in less than a year in order to record her first album at Lava Room Recording in Cleveland, Ohio. Dunia also performed in her first full-production video, "Lost in the Music,"produced and directed by Craig Smith of OSV Studios, North Olmsted, Ohio.
Incredibly, what was a dream a few short months ago is rapidly becoming reality. And looking back over the past year, it all seems like a blur now…more dream than reality. Perhaps the most incredible thing of all is the fact that Dunia is just now beginning what will undoubtedly be the busiest year of her life…a year Lost in the Music.
At four years of age, Dunia was adorable, talented, intelligent, and as beautiful on the inside as on the outside. What was unclear to Lazaro was just how he would help Dunia turn her passion for singing into something more. After all, it was the 1990s and they were residents of a small town in the heart of Cuba. Nevertheless, Lazaro decided to provide whatever support he could and take advantage of any opportunities that might present themselves.
By the time Dunia was in her mid-teens, Lazaro was talking to agents, producers, and managers associated with the entertainment industry throughout Cuba. After more than a year of searching for just the right person to help Dunia launch her career, Lazaro had entered into an agreement with Luis Grau, an individual willing to present Dunia to the right people within the entertainment business. In other words, Luis was willing to help Dunia launch her singing and acting career. The teenager from Cumanayagua, Cienfuegos, Cuba was on her way, a professional singer and actor at the age of 16…and her father had made good on a commitment made more than a decade before.
By 2007-2008, Dunia's career was taking off. Yet, Dunia knew where she wanted to go and that she was destined for far greater things. Significantly, as Dunia continued to master her craft and build her career, she was also envisioning a future as a recording artist beyond the borders of Cuba. Dunia envisioned herself performing in front of huge audiences and giving back throughout the course of her life in a way that can only be described as Paying it Forward!
Over the next few years, Dunia continued to hone her craft, working very hard and never wavering from her belief in her future as a major recording artist…and one day, fate stepped in.
On an evening in early 2012, fate intervened. It was a night like many others, Dunia was asked to perform for a group of individuals who were on a humanitarian mission to Cuba. The group had stopped for the evening in a small town in central Cuba and Dunia was asked to sing a few songs for the group at dinner.
In a very real sense, Dunia's time had come and the invitation to sing placed her in the same room with a successful businessman and entrepreneur from Northeast Ohio, a man who had the power to change her life forever, Alan Spitzer. The Spitzer Family has committed themselves and their resources and is making a real difference in the world now, serving One Million Meals a Year to individuals and families in need. Interestingly, just as Dunia has envisioned herself Paying it Forward in the future, The Spitzer Family was in the audience and doing just that.
Well, Alan, Pat, and the Spitzer children enjoyed Dunia's performance and made a point to learn more about the beautiful and talented young lady who had entertained them over the course of the evening. As they listened and talked, getting to know both Lazaro and Dunia better, Alan, Pat, and the rest of the family came to believe in Dunia's ability, her confidence, and her vision for her future.
Here it would seem was just the opportunity Lazaro had hoped for and Dunia had envisioned, an opportunity for Dunia to finally pursue her dream. Finally, the right people heard Dunia sing, believed in her ability, and were in a position to make a difference. Alan Spitzer, CEO and Chairman of Spitzer Management in Elyria, Ohio was in a position to put Dunia in front of the just kind of audiences she began envisioning herself in front of so many years ago.
Well, the story is far from told, a story about a father's love for and his belief in his daughter. Yet it is more than that, it is also the story of a daughter's belief in herself, and her love for her father. Perhaps most remarkable of all, it is a story about the kindness of strangers, a story about strangers who are not only willing to reach out to touch the lives of millions, but how that same family is reaching out to change forever the life of one exceptionally talented young woman. Finally, it is a story about how the same family is making a father's commitment to his daughter possible. No, not just possible, a reality.
Dunia has just launched her debut single and its accompanying video Lost in the Music. Lost in the Music is available on iTunes. It was produced and engineered by Mike Brown and Chris Ebbert of Lava Room Recording, Cleveland, Ohio 44103.
There is much more news about Dunia on the horizon and 2013 promises to be a year unlike any other for Dunia. It promises to be the first of many as Dunia continues to travel across cultures and around the world…all the while Lost in the Music!