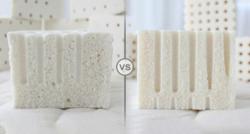 Anaheim, CA (PRWEB) April 23, 2013
Learning about latex mattresses can be a time consuming, difficult process. Between the multitude of brands and confusing terminology, many find it hard to discern the differences. Two terms often used to describe latex beds are Dunlop and Talalay, which refer to the method used to transform latex liquid into mattresses.
Best Mattress Reviews, a blog dedicated to beds, recently released an article explaining how Dunlop and Talalay latex differ. Titled "Buying a Latex Mattress: Dunlop vs Talalay", the guide examines the manufacturing process as well as differences in feel and performance.
The terms Dunlop and Talalay are defined as the two primary methods for creating latex mattresses, which both utilize similar materials, and can be either natural or synthetic. With Dunlop latex, the liquid is poured into molds, heated, and washed once. With Talalay latex, the liquid undergoes vacuum pressurization, flash freezing, heating and five washes. These changes result in differences to the material's cell structure, consistency, and durability.
In addition to the differences in manufacturing, the article goes into detail about how Dunlop and Talalay compare on several dimensions important for shoppers including: pressure relief, firmness and ILD ratings, breathability, durability, support, and satisfaction ratings. Best Mattress Reviews identifies the uniform, consistent structure of Talalay foam as superior in most regards. The blog also mentions that in their previous article comparing latex brands, 100% natural Talalay latex mattresses from Astrabeds topped those that used Dunlop or a mix in terms of owner reviews.
Ultimately, the guide is designed to help shoppers determine which type of latex mattress might best fit their needs. Consumers in the market for a new bed will benefit from understanding the materials used in the mattresses and what to expect prior to buying. Best Mattress Reviews also offers several other guides and brand reviews for those researching beds.
BestMattress-Reviews.org is a bed blog dedicated to providing mattress and sleep product information. On the blog, independent industry professionals provide expert opinions and recommendations backed by research and customer reviews. The website aims to make the buying and research process a little simpler by collecting and analyzing information in a digestible, enjoyable format.